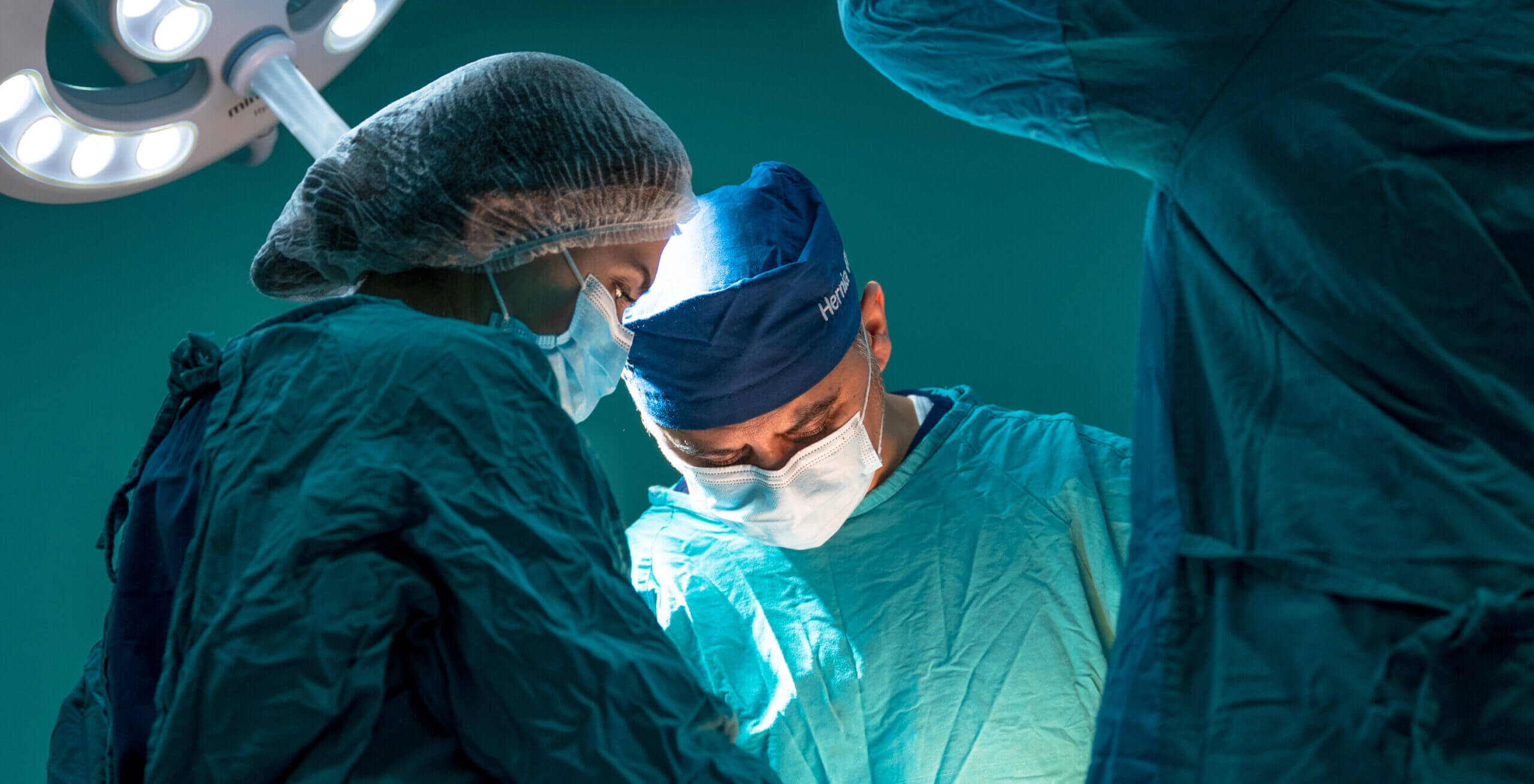 / CASE STUDY
UX & SEO Boost for Medical Training Facility
/Provided Services
Content Strategy
UX Design
Drupal CMS Development
Local SEO
Conversion-Rate Optimization
Website Maintenance
The Challenge
AdventHealth Nicholson Center sought a more user-friendly website experience, both on the front and back end. They needed a clean, minimalistic design that incorporated their color palette to enhance user experience. They also required a reorganized information architecture and an efficient content management system for quick updates to their ever-changing list of meetings and events.
The Approach
Perform a detailed analysis of user and administrator pain points, and strategize an approach to address them
Simplify the user experience for exploring facility services and courses
Create a streamlined UX design for the new website
Provide front-end and back-end development in Drupal CMS
Integrate multi-language support for global audiences
+
%
Increase in Ranked Keywords
%
Avg Time on Site
X
Clinical Registrations
(6 Months After Launch)
UI/UX Design
Our team worked together to create a slick, modern website that's easily accessible on any device. We strived for a balance of clean design and convenient features to provide an unforgettable user experience. Our mobile-responsive, innovative design helped to ensure the website is as friendly and approachable as the Nicholson Center staff themselves​.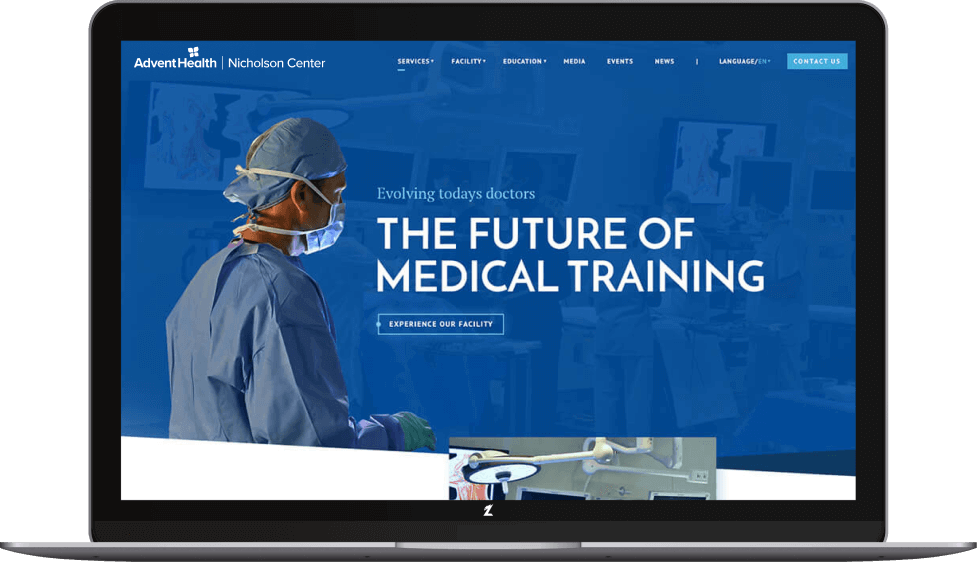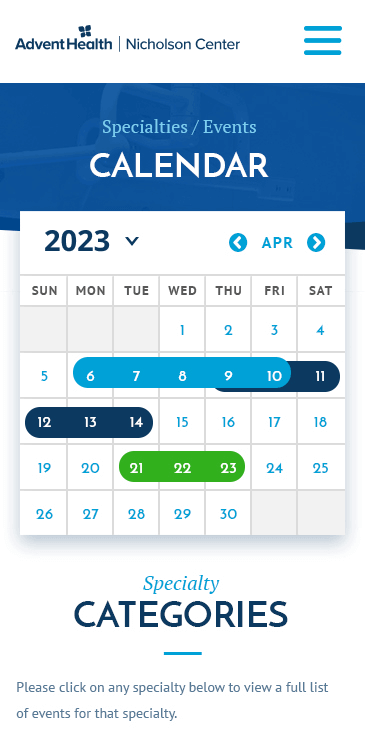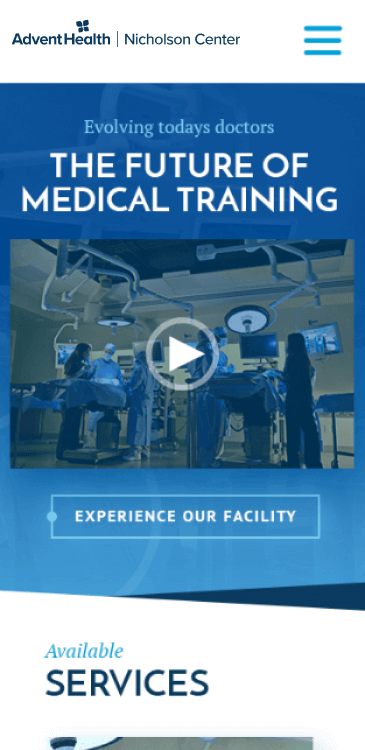 Clinical Course
Reservation Funnel
Recognizing the crucial need for a seamless and efficient reservation system to book AdventHealth Nicholson Center's many clinical courses, we set out to optimize their online registration process. An ACS-accredited education institute, Nicholson Center offers a range of fully CME-accredited training courses, making it necessary to have a booking system that can handle a high volume of reservations while maintaining accuracy, efficiency and reliability​​. Our team integrated a robust registration funnel into the website, which not only streamlined the enrollment process for users but also automated the necessary paperwork for CME credit, significantly reducing time-consuming administrative burdens for both attendees and staff.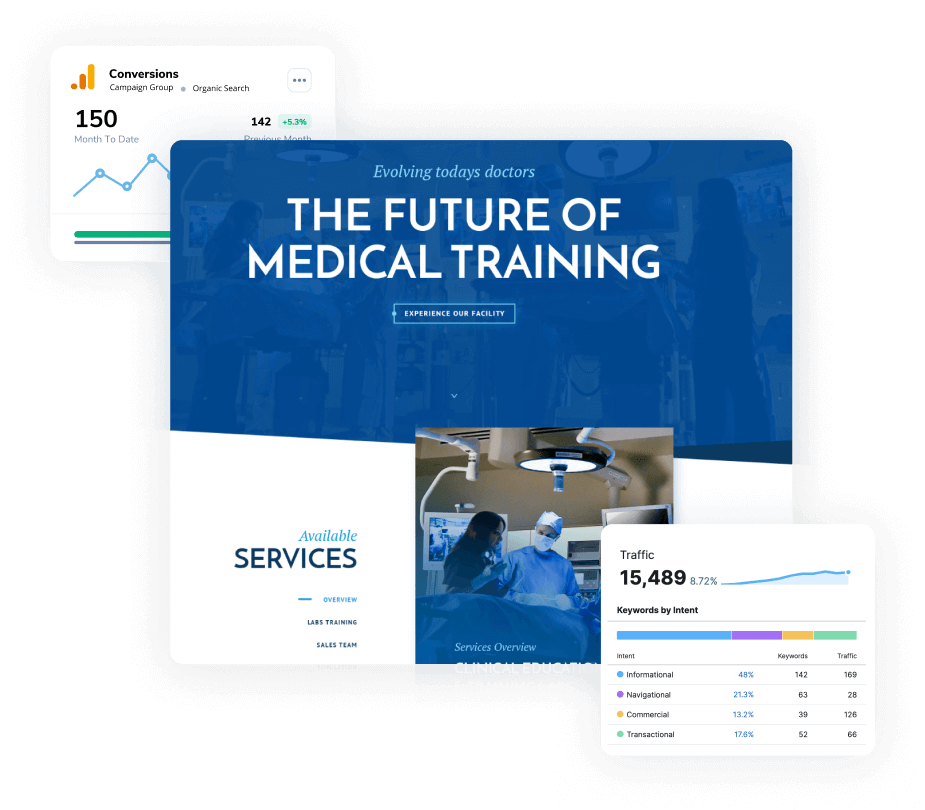 National SEO
We also employed key SEO strategies to improve the Nicholson Center's organic search rankings on a national scale. By focusing on target keywords like "cadaver tissue" and "training labs," we helped optimize their website's content to draw in more relevant traffic. This strategic keyword optimization, combined with other best practices, helped improve visibility and attract more qualified leads to their clinical courses from search engine results pages.
/ Our Work
Other Case Studies
64% Increase in B2B Leads from Organic Search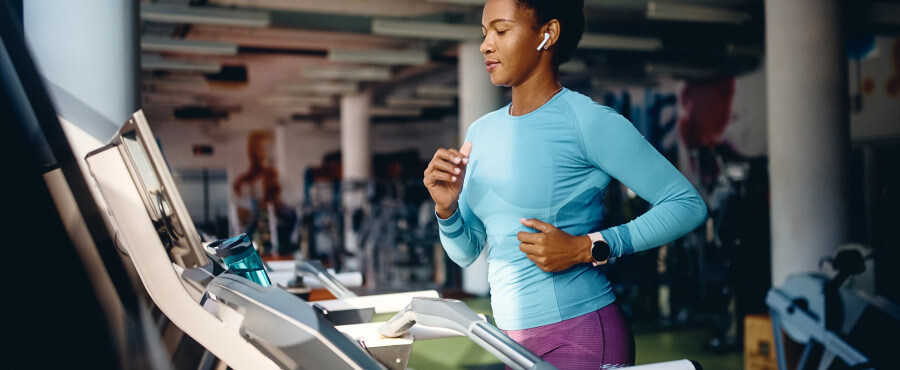 Content Strategy Generates
2 Million Impressions in 3 Months
Content Strategy Grows Enterprise Leads by 455%