/ Contact Us
Amplify ROI with Paid Media Ads
Drive business growth and stay ahead of the competition with our expert paid media advertising services, designed to boost your traffic, leads and revenue.
Schedule Your Paid Media Consultation
Reach New Leads & Boost Growth
Reach your target audience and achieve your goals with our expertise in search, social and programmatic advertising.
"They are a team of professionals that can take any idea and turn it into a functioning masterpiece. It has been great working with everyone on the team, and I would recommend their services to anyone looking to succeed."

— Michael Pennington, Data Line Technologies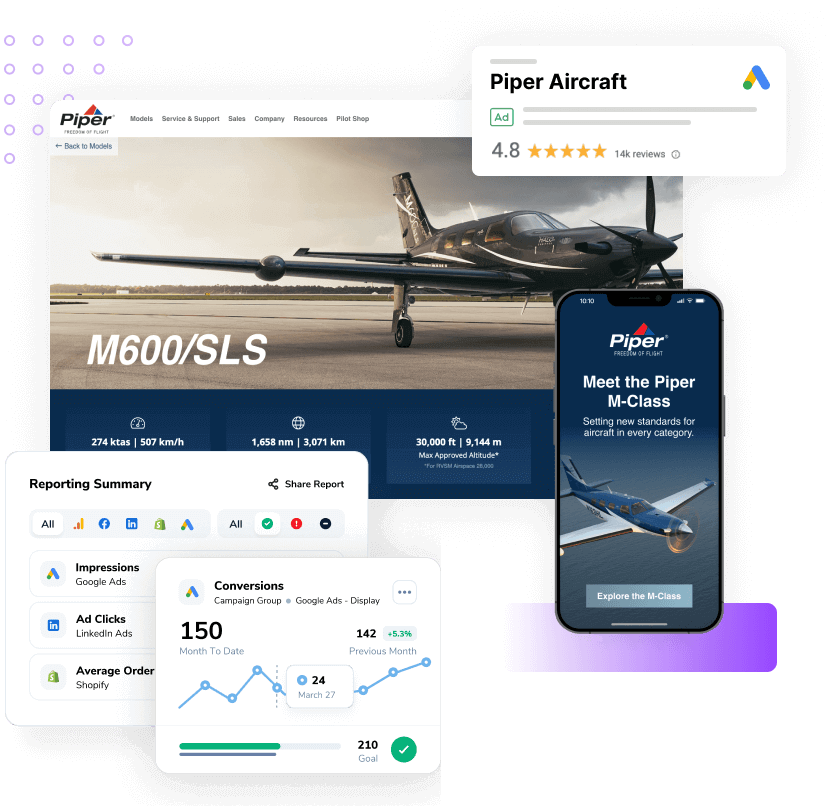 Paid Media Advertising
Pay Per Click / Search Engine Marketing Ads
Enhance visibility by appearing at the top of search engine results for relevant keywords, capturing high-intent traffic through our PPC / SEM paid search advertising services.
Display Advertising
Garner attention through visually appealing banners and images placed on strategically chosen websites and platforms to drive user engagement and conversions.
Remarketing Ads
Re-engage previous visitors by displaying tailored ads across different platforms, boosting conversion rates and turning missed opportunities into successful conversions.
Video Ads
Engage your audience on a deeper level with our compelling video ads, telling your brand's story while capturing their attention and interest.
Paid Social Media Ads
Amplify your reach on social media platforms like Facebook, Instagram, TikTok, LinkedIn, Pinterest and Twitter through targeted advertisements, connecting with your audience where they're most active.
Google Shopping Ads
Showcase your products prominently in search results with our Google Shopping Ads, designed to drive high-intent shoppers directly to your online store.
E-Commerce Pay Per Click
Boost your online sales with our targeted e-commerce PPC campaigns, expertly crafted to attract your target audience into a well-structured sales funnel.
Programmatic Advertising
Revolutionize your ad buying with our programmatic solutions, leveraging advanced technology for efficient, targeted and highly impactful advertising.
ROI & Closed-Loop Reporting
Demystify your post-conversion landscape. We close the reporting loop by focusing on ROI and assessing lead outcomes to maximize value for every dollar invested.
Craft Campaigns That Convert
At Zillas, we develop dynamic paid media campaigns that align with your business goals and connect you with the right audience.
Targeted Advertising
Our paid media experts craft laser-focused advertising campaigns that zero in on your target audience, ensuring that your message reaches those who are most likely to engage and convert.
ROI-Driven Approach
We optimize campaigns for maximum return on investment, employing cutting-edge strategies that amplify your reach and deliver tangible results for your business.
Data-Informed Decisions
Need a better system to manage your content marketing program? Our team will take a look under the hood of your content management system to make sure that it meets your needs and can scale with your business.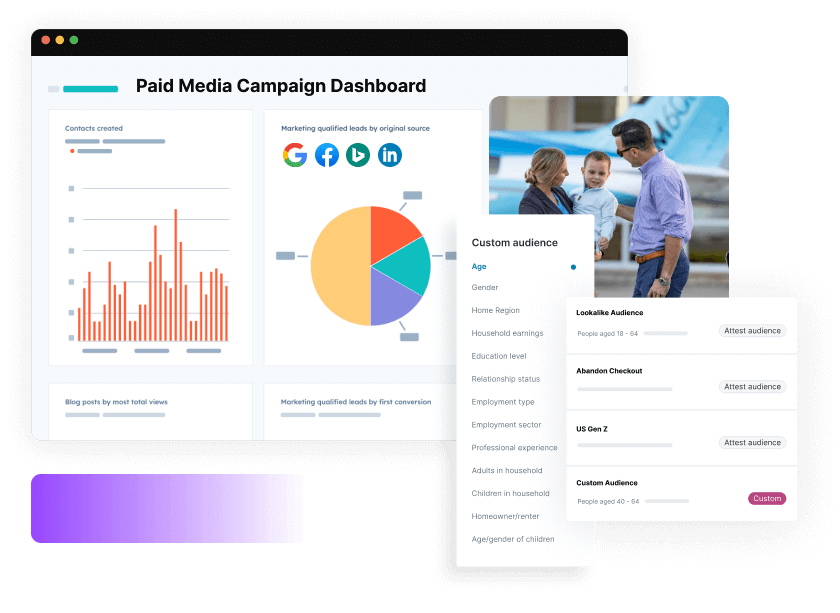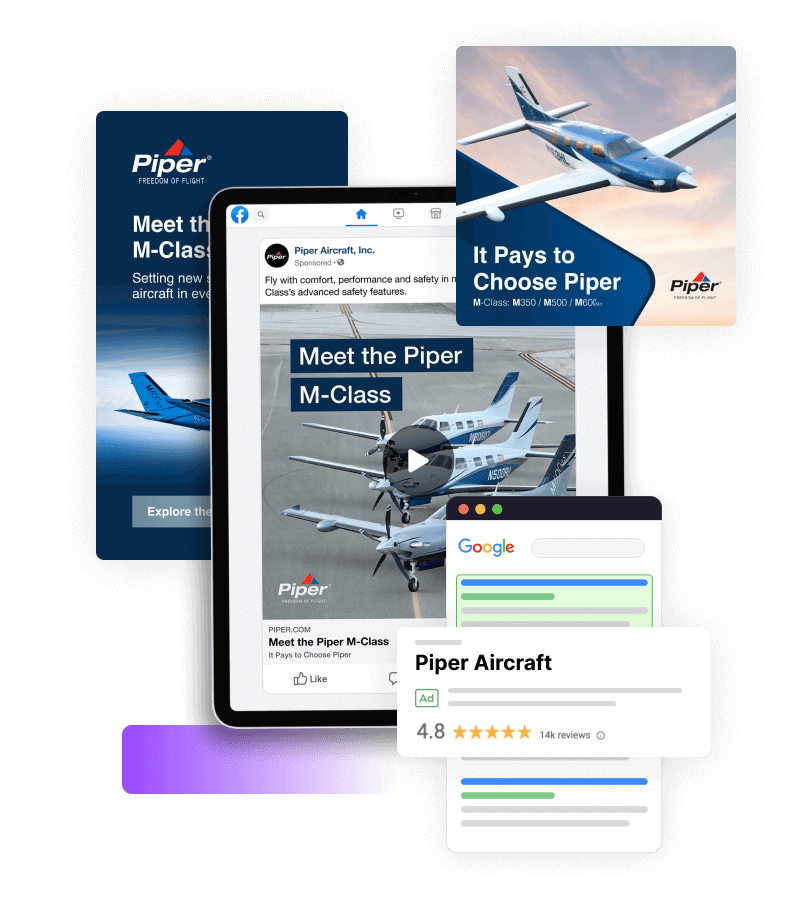 Achieve Your Goals With Custom Ads
Our versatile range of paid media services ensures we can craft a campaign that best suits your brand's unique needs.
Creative Assets
Empower your ads with stunning visuals and persuasive messaging. We can supply premium creative assets — including copy, images and videos — tailored to your campaign goals.
Performance Monitoring
Maximize your ad performance without the hassle. We continuously analyze and adapt your campaigns to ensure optimal use of your budget and achieve your advertising goals.
Ad Optimizations
Elevate your campaigns beyond the ordinary. We regularly refine creative elements, sharpen audience targeting and pivot underperforming tactics to secure an unmatched return on investment.
Data Management
Simplify your data landscape with our streamlined solution. We aggregate and categorize data from various platforms into one single, easy-to-navigate source, offering actionable insights without the complexity.
Advanced Reporting
Stay informed with real-time insights through custom dashboards. Visualize critical key performance indicators (KPIs) from your paid ads with our intuitive, accessible reporting tool, ensuring data-driven decision-making is always at your fingertips.
/ CUSTOMER SUCCESS
Trusted By Industry Leaders
/ FAQS
Frequently Asked Questions
AS FEATURED IN