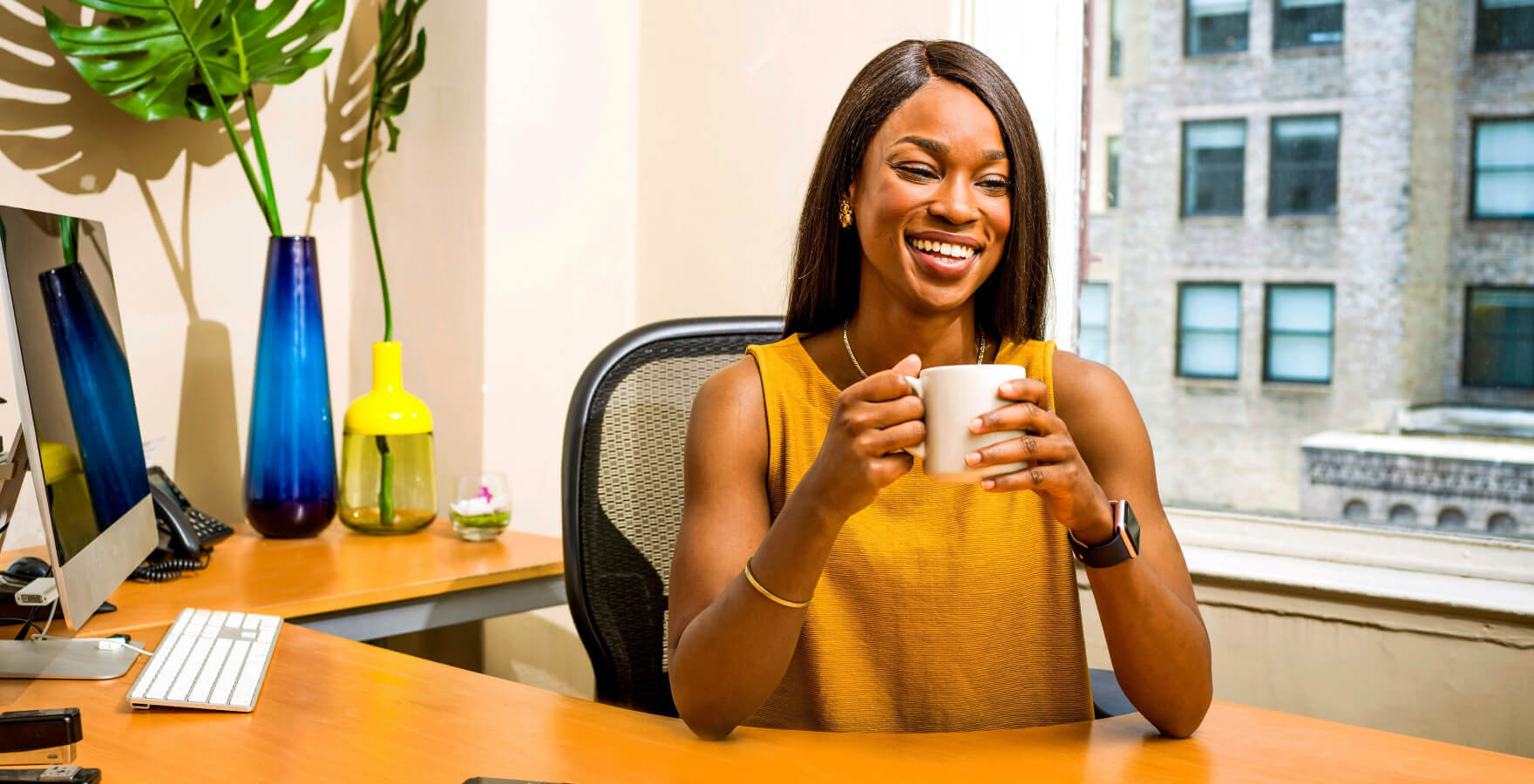 / CASE STUDY
Transforming Lead Generation and Brand Visibility
/Provided Services
Digital Strategy
Search Engine Optimization
Conversion-Rate Optimization
UI/UX Design
PPC/SEM Ads
Landing Page Development
The Challenge
ei Funding, a trusted provider of invoice factoring, found itself grappling with new challenges in the digital landscape. Their previous marketing partnership had stagnated, failing to innovate or generate a consistent stream of quality leads. Furthermore, their efforts were not driving the desired website traffic. Ready to elevate their brand, ei Funding recognized the need for a fresh, specialized perspective.
The Approach
Elevate brand visibility among ei Funding's target demographic
Craft a user-friendly web experience
Drive high-quality web traffic
Increase the number of qualified leads
%
Ranked Keywords
%
Organic Traffic
%
Paid Ad Conversions
(2020 vs. 2023)
UI/UX Design
Our redesign of ei Funding's website focused on 3 things: making it easier to access valuable content, optimizing key pages for search engine visibility and creating a clear pathway for users to convert. The new design represented a modernized version of the ei Funding brand, inspired by a desire to speak to today's business owners who are seeking out innovative funding solutions.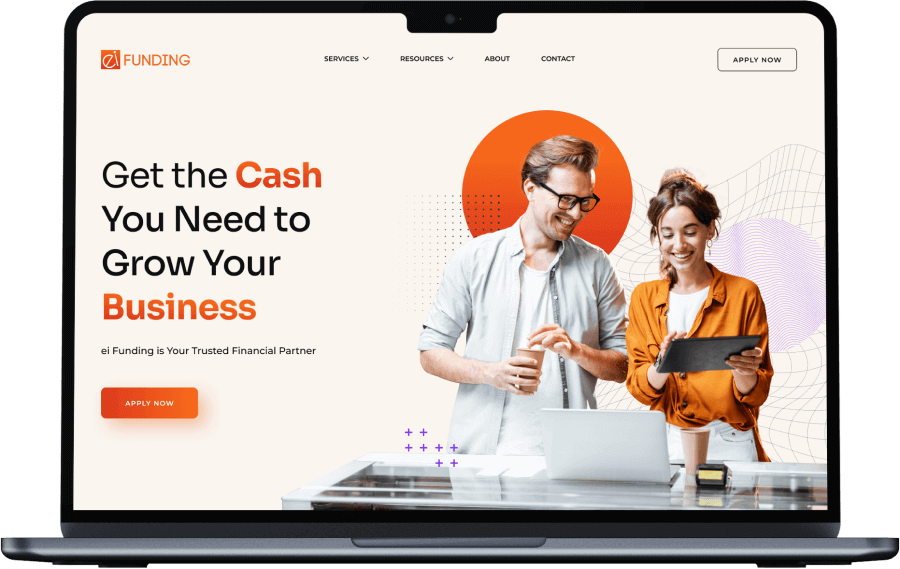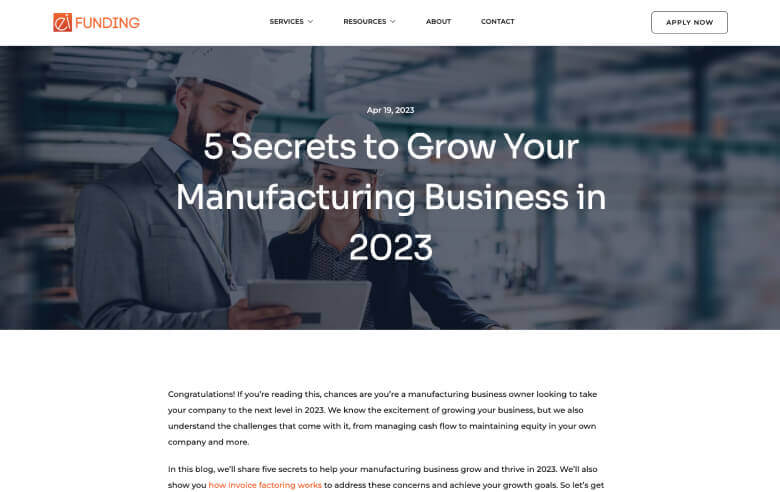 SEO
We implemented a comprehensive strategy targeting relevant keywords pertaining to their main services and verticals. Our approach involved optimizing metadata and page structure to enhance visibility and accessibility for web crawlers. By fine-tuning these elements, we aimed to improve organic search rankings and drive targeted traffic to ei Funding's website, ultimately maximizing their online presence and generating increased opportunities for engagement.
Content Strategy
We developed a series of content pieces that focus on different verticals and service offerings, including a pillar page and supporting blog articles, a quiz, resource guides and more. This content not only provides valuable information to prospects interested in business financing through invoice factoring but also helps position ei Funding as an authority in the industry and encourages search engines to serve up pages from the site high on SERPs (search engine results pages) for relevant search terms.
Organic Search
With a fresh new look, we turned our attention to boosting ei Funding's visibility through organic content. We devised content marketing strategies focused on relevant verticals, including telecom and manufacturing industries. We also sought to highlight the unique value proposition of invoice factoring, creating pillar pages, blogs and infographics aimed at clearly communicating the factoring process. As a result, we saw huge growth in organic traffic sessions, indicating users were finding ei Funding's content highly valuable and were seeking out even more information on how their services could benefit them.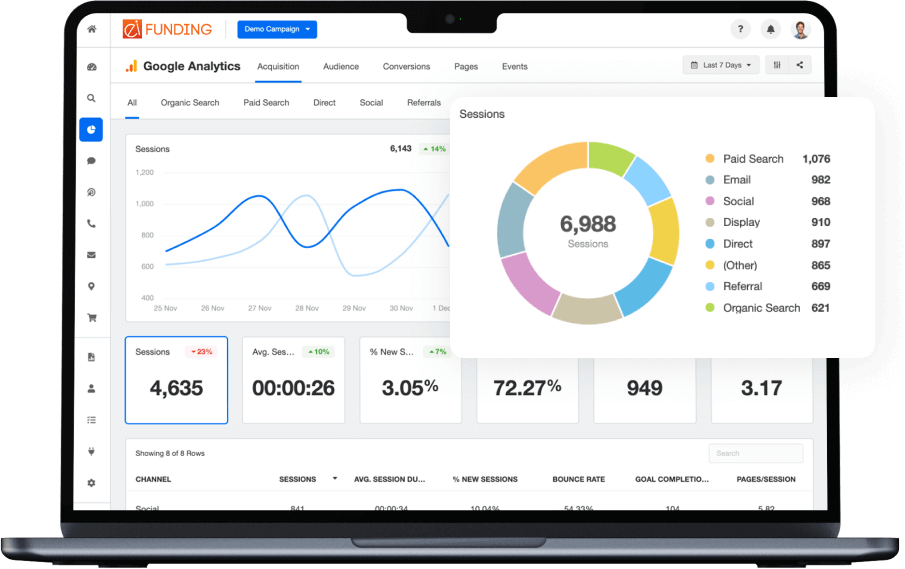 %
Organic Traffic
"Through their expert leadership, my site and online presence have made dramatic improvements… The entire staff working behind the scenes is a fundamental component of my company and I am indebted to them for their hard work, counsel and expertise in the management of my online presence."

— Ernane Iung, President & CEO, ei Funding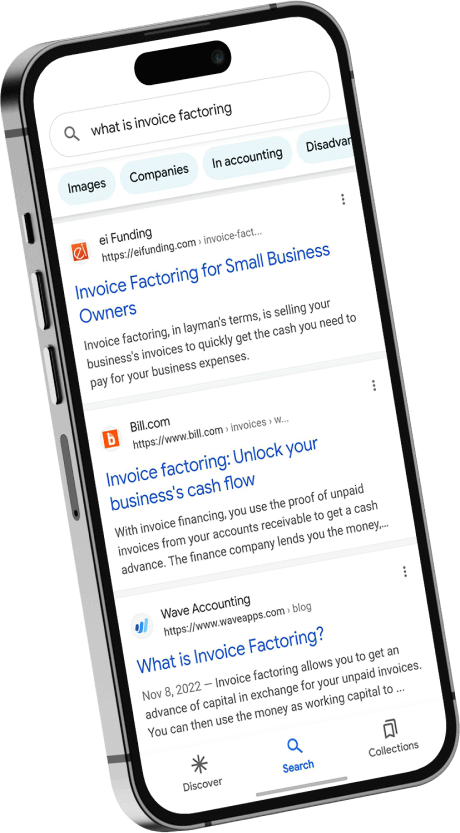 PPC/SEM Ads
In addition to organic content boosting search visibility, we took things a step further with paid search advertising. We launched a series of highly-targeted Google Search campaigns aimed at users seeking out unique funding solutions for their B2B business. The result of our targeting efforts? A more cost-effective advertising strategy leading to a significant boost in web traffic and leads.
%
Cost Per Conversion Improvement
%
Conversion Rate
Creating New Pathways for Lead Generation
As part of our comprehensive content strategy, we strategically designed a diverse range of lead magnets tailored to both top-of-funnel and middle-of-funnel users. These lead magnets specifically targeted key audience locations such as Florida and Texas, as well as addressing specific concerns such as rising inflation or loan rejection. By offering valuable and relevant resources through these lead magnets, we aimed to capture the attention of potential prospects and nurture them throughout their buyer's journey, ultimately generating a steady stream of high-quality leads for ei Funding.
Moreover, we implemented a series of quiz funnels specifically crafted for services like invoice factoring and Factoring+. These interactive quizzes provided users with an opportunity to self-qualify their eligibility before proceeding with the application process. By incorporating this user-centric approach, we not only fostered a higher level of engagement among the audience but also significantly increased the number of qualified leads. This strategic implementation of quiz funnels ensured that only the most relevant and interested prospects progressed further in the conversion funnel, streamlining the lead qualification process and maximizing the efficiency of ei Funding's sales efforts.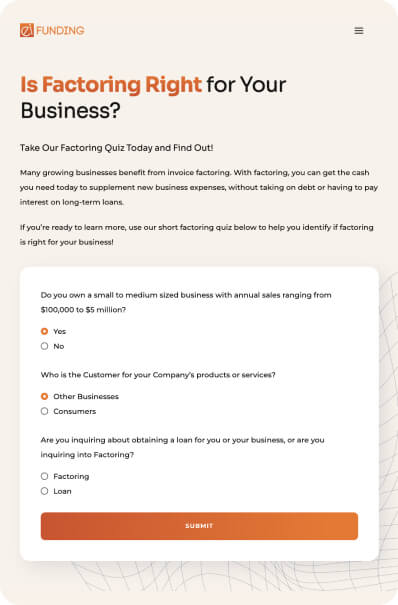 +
Top of Funnel Leads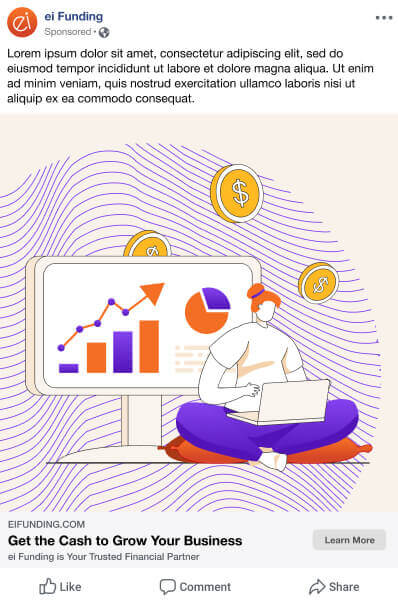 %
Conversion Rate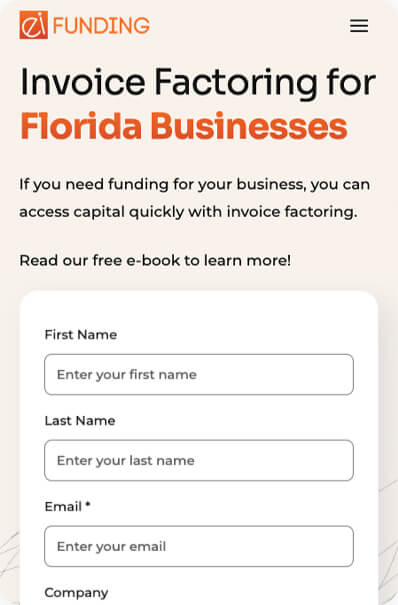 +
%
Total Gated Content Leads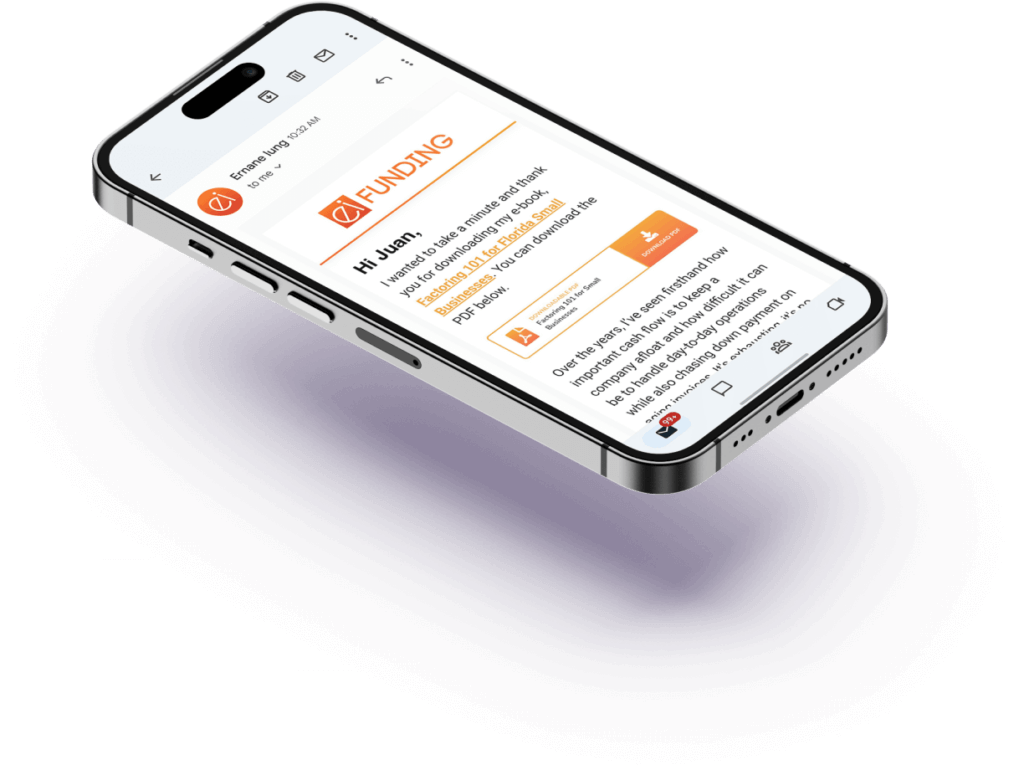 %
Signup Rate
Email Marketing
Zillas played a pivotal role in ei Funding's email marketing efforts, helping establish a monthly newsletter that served as a powerful tool for fostering relationships and driving engagement with both existing customers and prospects. Our team curated and crafted original content for each edition, focusing on timely economic trends and offering valuable tips and tricks for small business owners. By delivering this high-quality content directly to subscribers' inboxes, the newsletter not only provided valuable insights but also served as a means to stay top-of-mind with the audience, nurturing leads and encouraging repeat business.
/ Our Work
Other Case Studies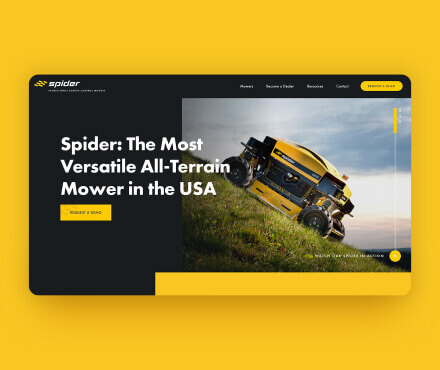 352% Increase in Users from Content Marketing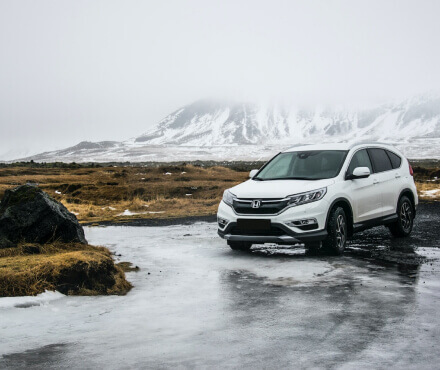 Local SEO Drives 5X Increase in Car Rentals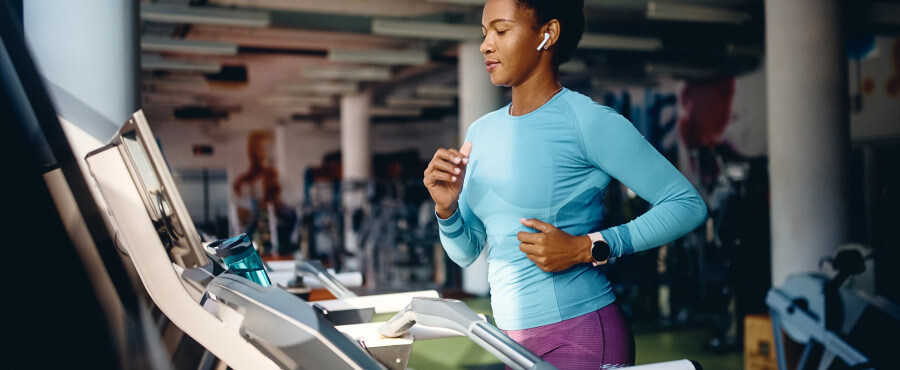 Content Strategy Generates 2 Million Impressions for Health & Wellness Manufacturing Company in 3 Months