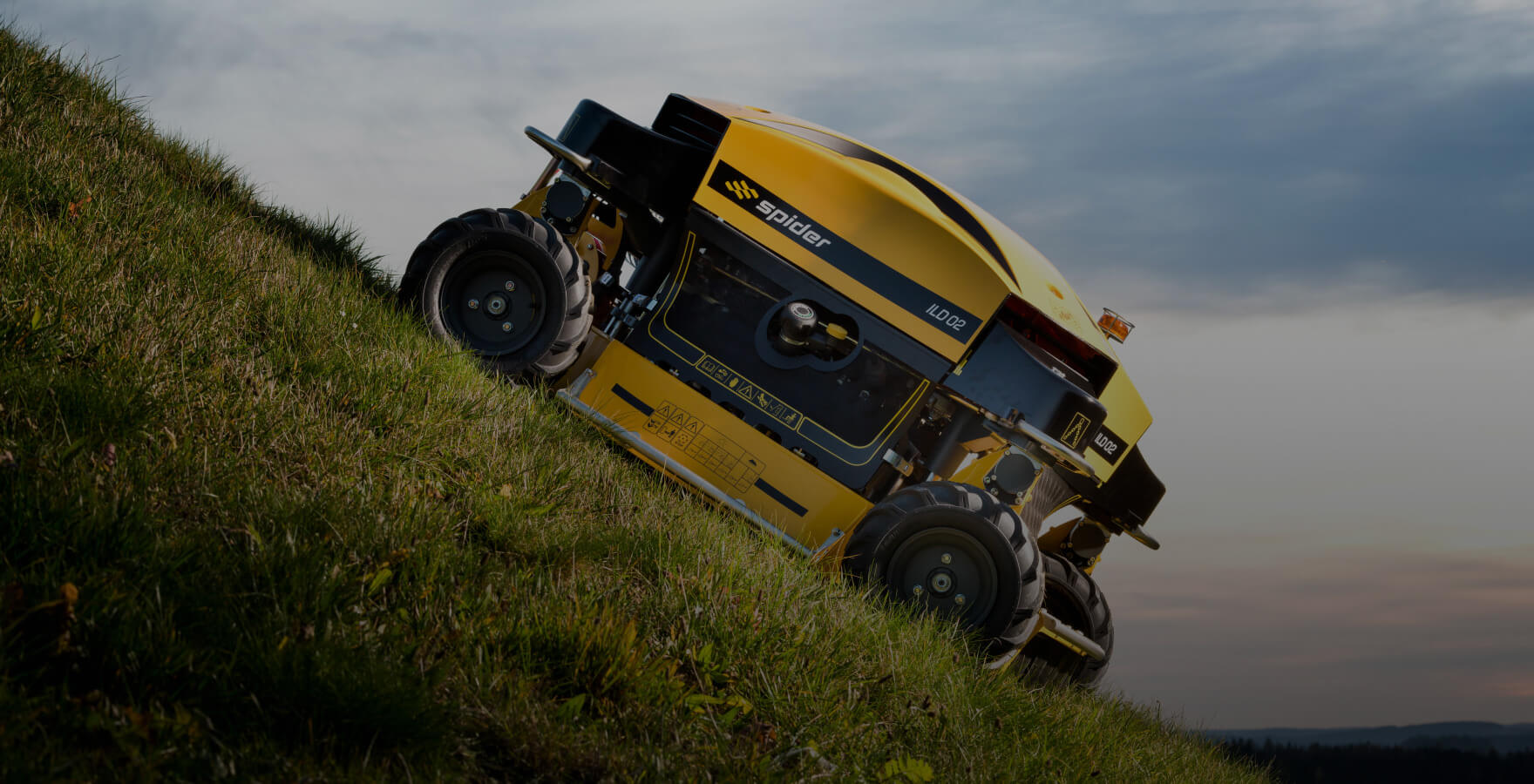 / CASE STUDY
International Manufacturer Grows Domestic Brand & Lead Generation
/Provided Services
Content Strategy
UX Design
CMS Development
Search Engine Optimization
PPC / SEM
Conversion-Rate Optimization
Lead Generation
Paid Social Media Ads
The Challenge
Spider Mower USA, an innovative remote-control lawn mower company and a subsidiary of Dvořák Slope Mowers Ltd. (the manufacturer of the original SPIDER mowers), came to us seeking a sleek new website to showcase their brand presence in the U.S., generate more awareness for their unique mower lineup and to drive qualified leads to request more information. The challenge involved elevating a relatively niche product into the broader landscape of garden and landscape equipment and demonstrating the unique value of SPIDER mowers to prospects across the United States.
The Approach
Create an intuitive and engaging online experience via enhanced UX/UI design
Improve the visibility of SPIDER mowers in search engine results pages through strategic SEO efforts
Leverage paid advertising campaigns to target specific prospects with customized messaging
Capture and nurture potential customers
Develop a mobile-responsive website design to cater to users on all devices
+
%
Increase in Users
+
%
Increase in Demo Requests
+
%
"Become a Dealer" Form Submissions
(Year Over Year Comparison)
UI/UX Design
To showcase the truly unique features and "wow" factor of Spider Mower USA's premium product line, we developed a mobile-responsive website with a design approach that combined the sleek, high-tech nature of the mowers with the practical and functional requirements of lawn maintenance. The design was aimed at making the products' features and benefits clear and compelling, leading key prospects on a journey from discovery to purchase.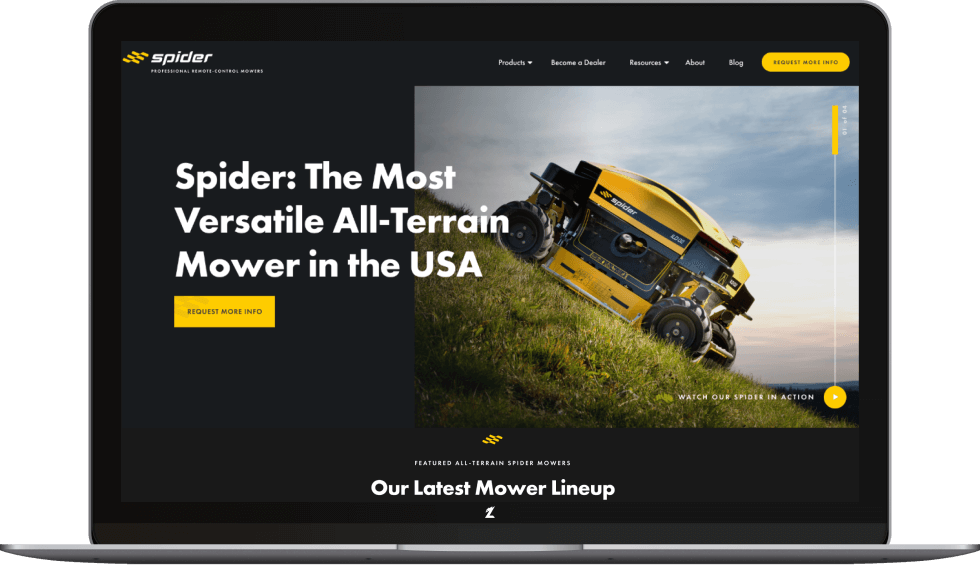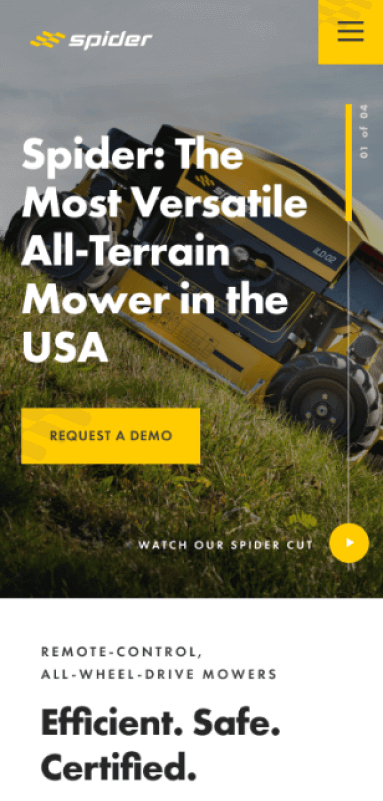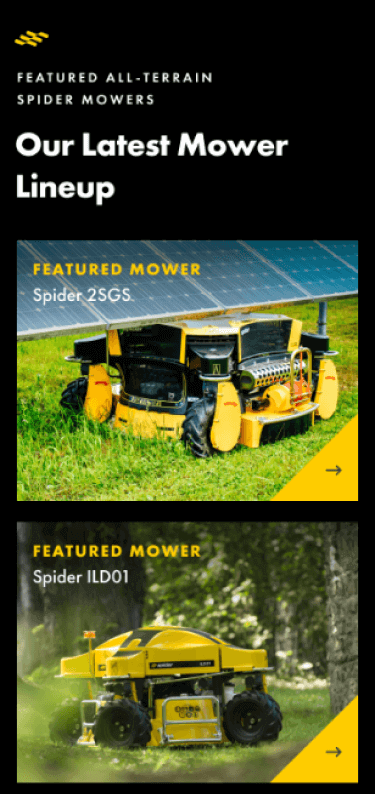 Increased Brand Awareness
via Organic & Paid Media
We used a dual approach of SEO and paid media campaigns to boost Spider Mower USA's brand awareness. For SEO, we crafted keyword strategies and optimized on-site content to improve the company's search engine rankings. On the paid media front, we implemented diverse ad campaigns across platforms like Google and Meta, targeting ads to the most relevant audience segments possible. The combination of these strategies significantly increased Spider Mower USA's online visibility and product interest, allowing for greater brand awareness and authority in the industry.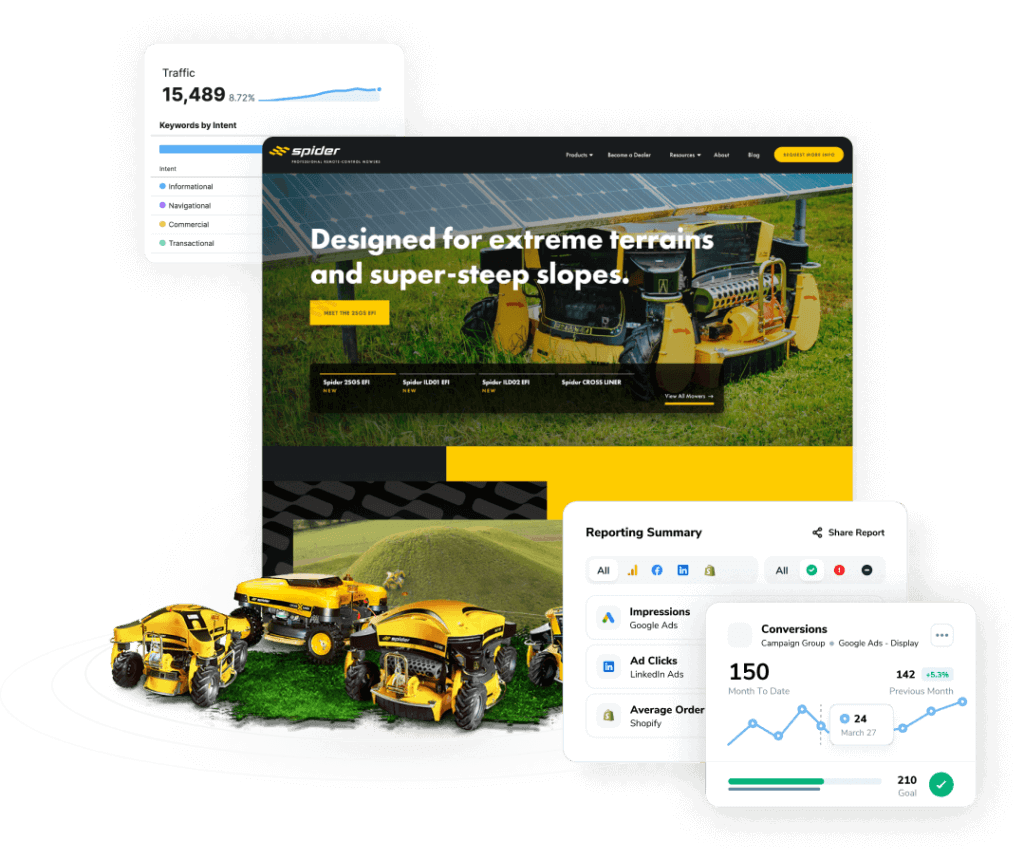 National SEO
Our comprehensive national SEO plan for Spider Mower USA targeted high-volume, relevant keywords related to remote-controlled lawn mowers, complemented by updates to the website's imagery and video content, technical elements and messaging as a whole. Off-page SEO strategies — including building high-quality backlinks — enhanced Spider Mower USA's domain authority, which significantly improved the company's rankings well beyond its local headquarters in Orlando, attracting an even wider audience nationwide.
Paid Media Ads
We implemented a comprehensive paid media strategy that included Meta Ads, Google Search and Display Ads, as well as retargeting ads to continue the conversation after users left the website. This multi-channel approach ensured that Spider Mower USA's unique products were consistently presented to potential customers, boosting brand awareness and keeping product interest top of mind.
Domestic Lead Generation Funnel
From a lead-generation standpoint, we implemented a strategic funnel that captured email addresses, offered product comparisons and guided users to dedicated landing pages to convert on. This strategy was geared toward helping Spider Mower USA generate sales-qualified leads for their product line, nurturing them at every stage of the buyer's journey they may enter from. Using this comprehensive approach to lead generation, we helped Spider Mower USA grow its customer base and increase domestic sales dramatically.
/ Our Work
Other Case Studies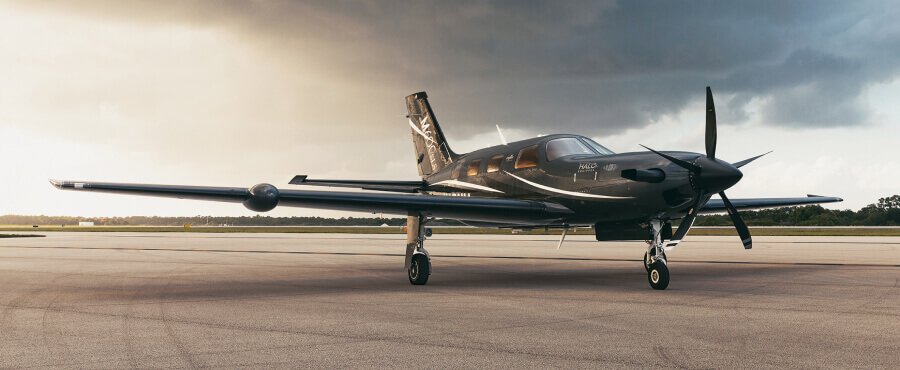 Aircraft Manufacturer Climbs 860% in Dealer SQLs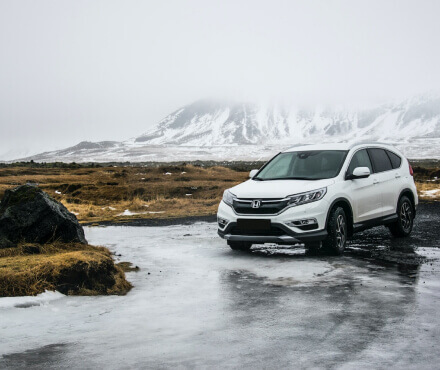 Local SEO Drives 5X Increase in Car Rentals
Content Strategy Grows Enterprise Leads by 455%