Recently, we discussed Google's new AI-powered generative search project, Magi. Now, thanks to this year's Google I/O event, we have a sneak peek into what it will look like. Here's what we know about Google's experimental search generative experience (SGE) updates so far:
The Interface
The new search interface includes a generative AI response to your query along with the top three cited sources and prompts at the bottom to ask a pre-selected follow-up question or your own in a conversational style.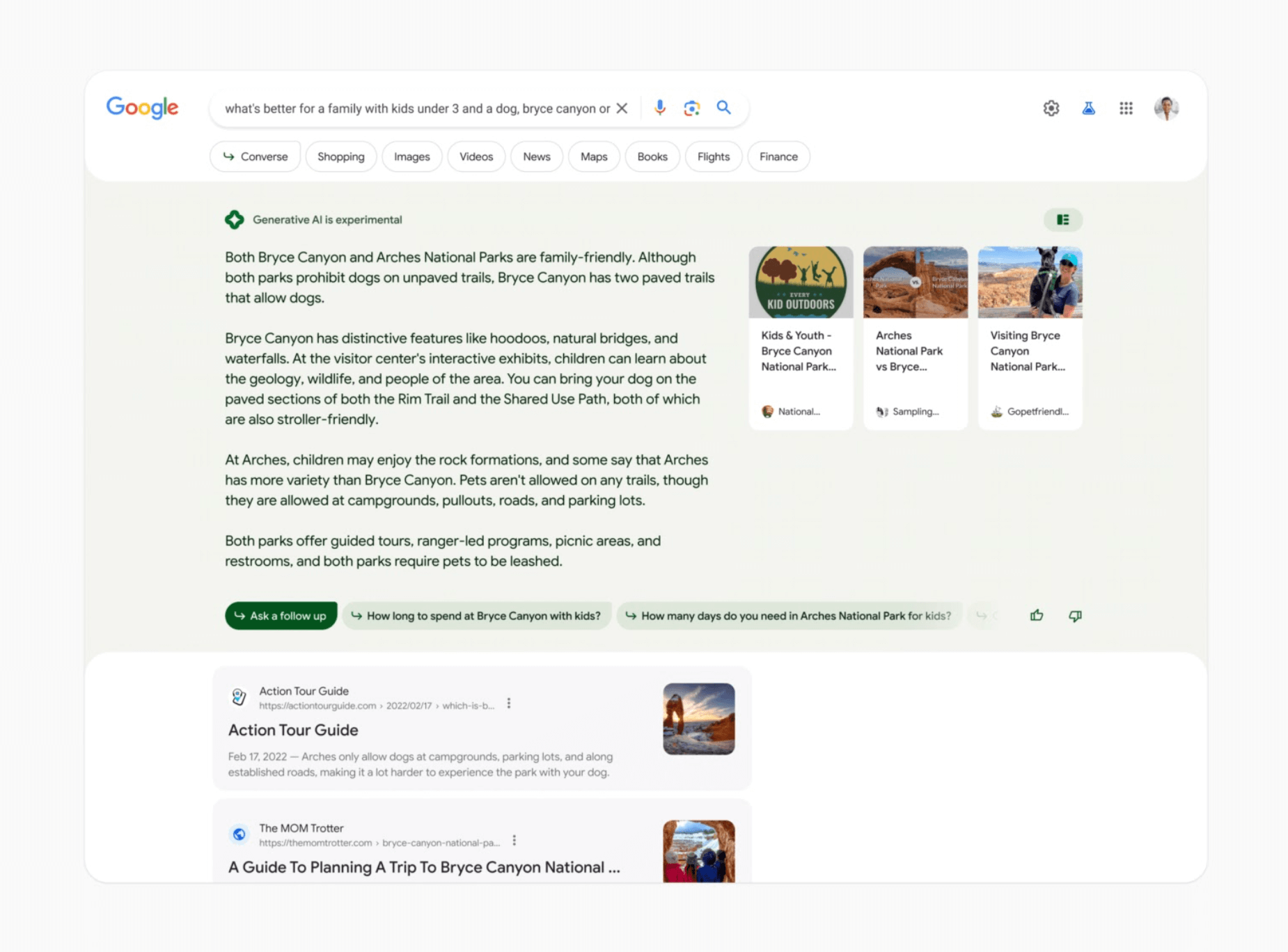 Source: Search Engine Land
As you dig deeper into the generative search experience, Google will continue to provide links to products, websites and more: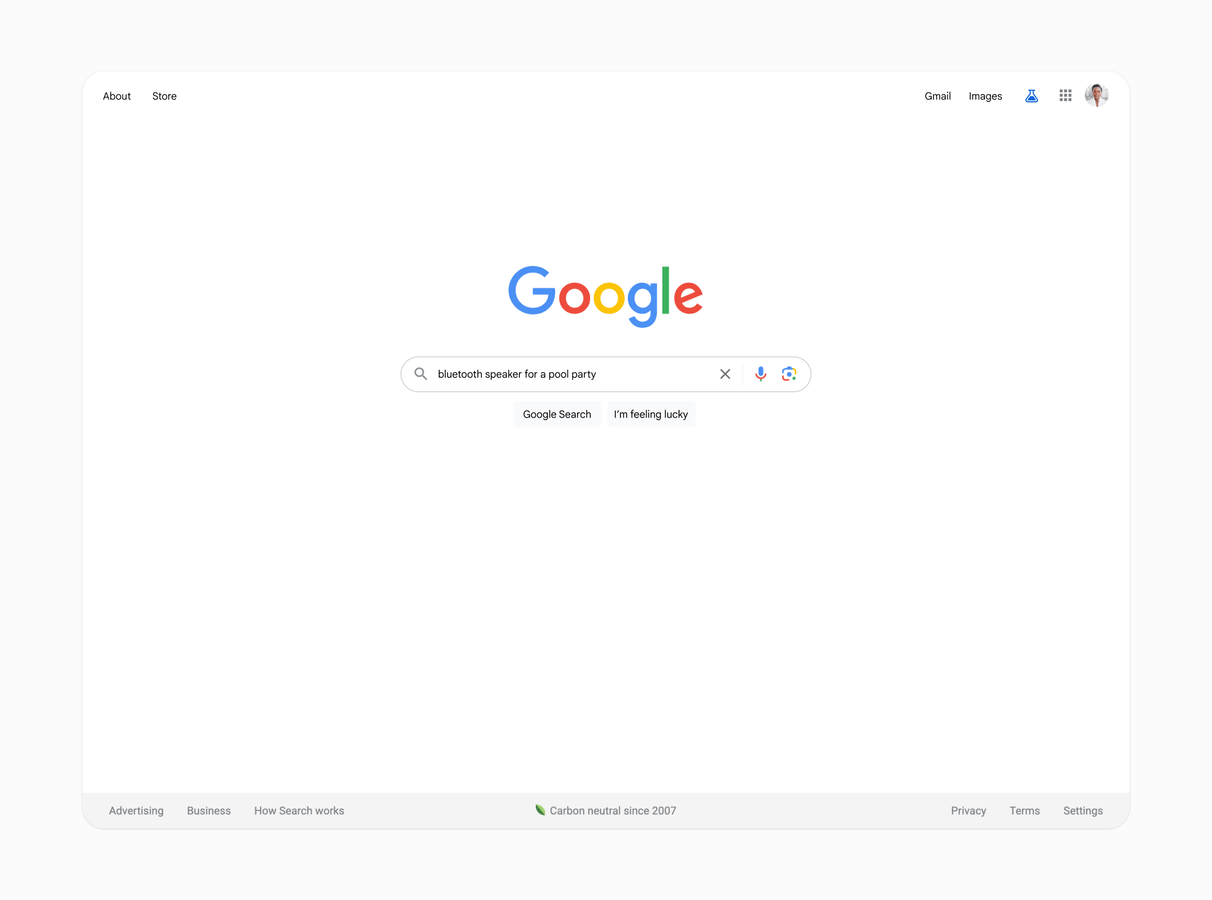 Source: Search Engine Land
Sponsored ads will still appear at the top of the search engine results page, above the generative AI response.
Featured Snippets Are Going Away
For many informational queries, the top article on the search engine results page (SERP) will no longer get its own featured snippet. In its place, Google is providing an AI-generated summary, pulling the top three blue links from the first page and featuring them in the right-hand column of the SGE.
The New Shopping Experience
Google's SGE will allow shoppers to see a curated selection of products from billions of listings (thanks to its Shopping Graph), along with images, reviews, prices and an AI-generated response with factors you should consider before buying.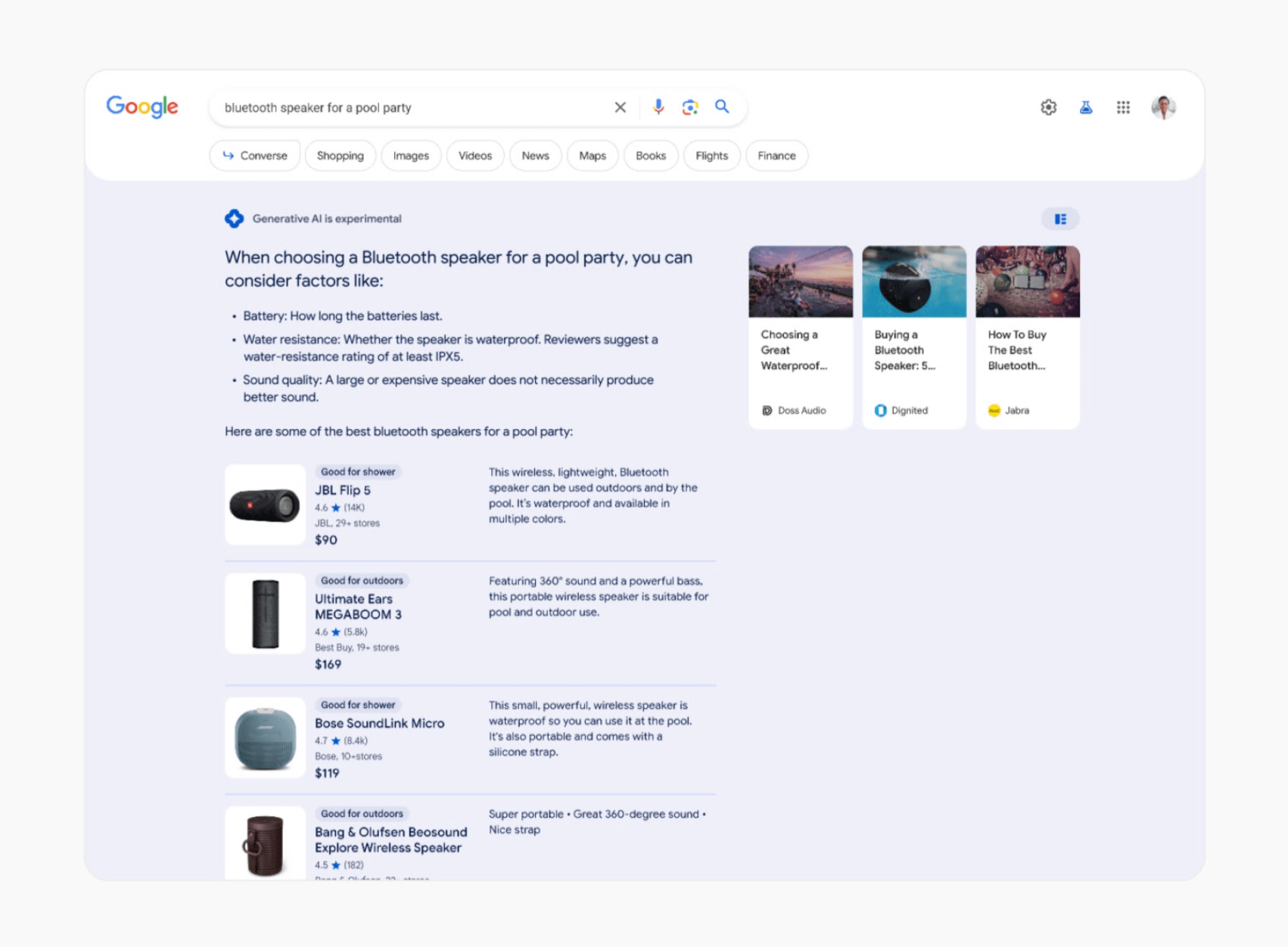 Source: Search Engine Land
In addition to the product listings, Google's SGE also cites the articles from which it pulled its recommendations.
Conversation Mode
When you click on the "ask a follow-up question" button (as pictured below), Google's SGE will switch to conversational mode — not unlike what you would see with a conversational AI tool like ChatGPT or Bard.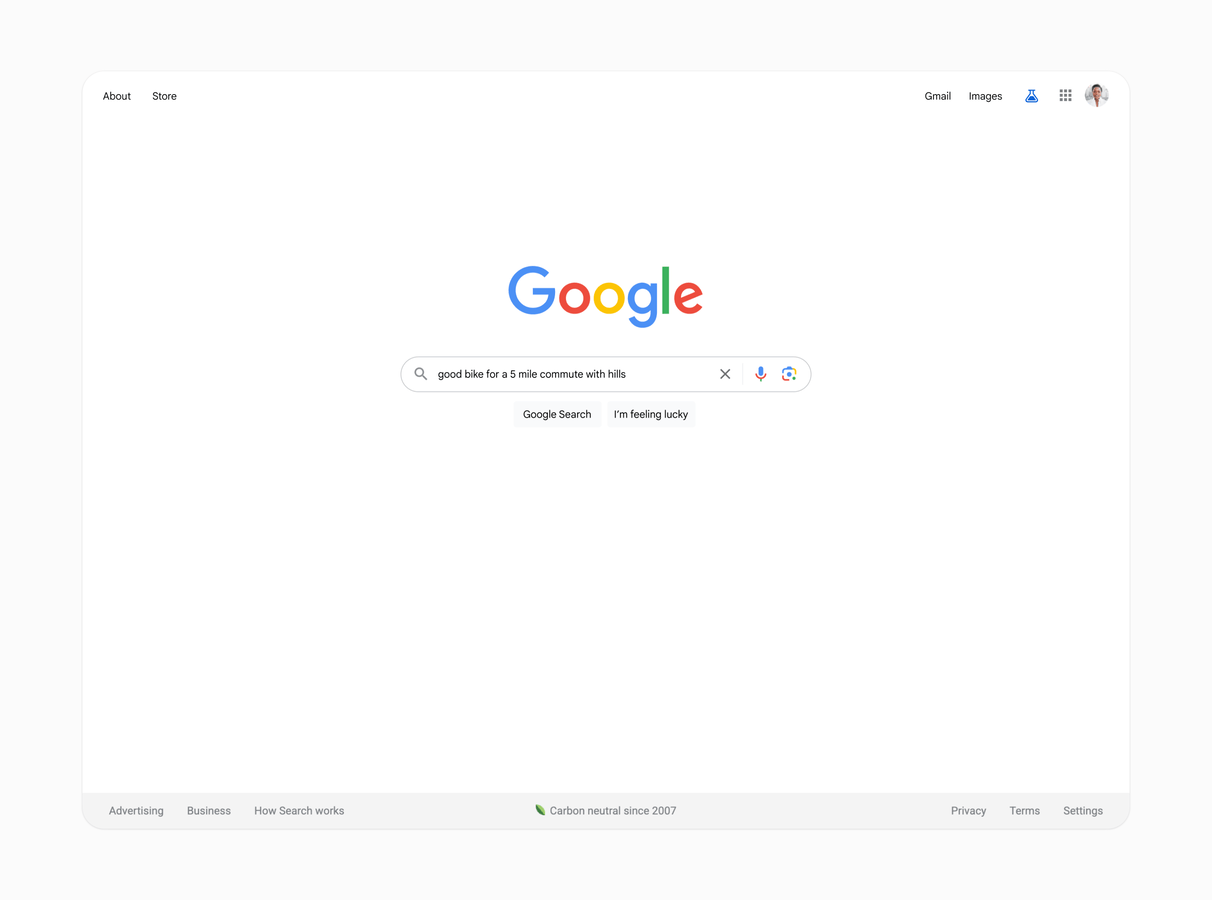 Source: Search Engine Land
Conversational mode carries over the context of the searcher's previous query(ies) to help them dive deeper into their research or get closer to their actual intent.
What Businesses Should Know
If you're a business owner or marketer wondering how this new search experience will affect your digital presence, here are some things to keep in mind:
1. Google Still Wants People To Click on Your Ads
While this new SGE might affect your traffic or click-through rates, Google still relies on ad spend. Don't fear the change — continue to monitor your paid search campaigns, stay updated with new ad platform features and experiment with new formats and creatives.
2. The Credibility of Your Brand, People and Content Is More Important Than Ever
Google's SGE will pull from a wide variety of content (that can come from anywhere) to formulate generative responses about your brand. So, gaining control of your digital footprint and producing high-quality content is even more important than ever.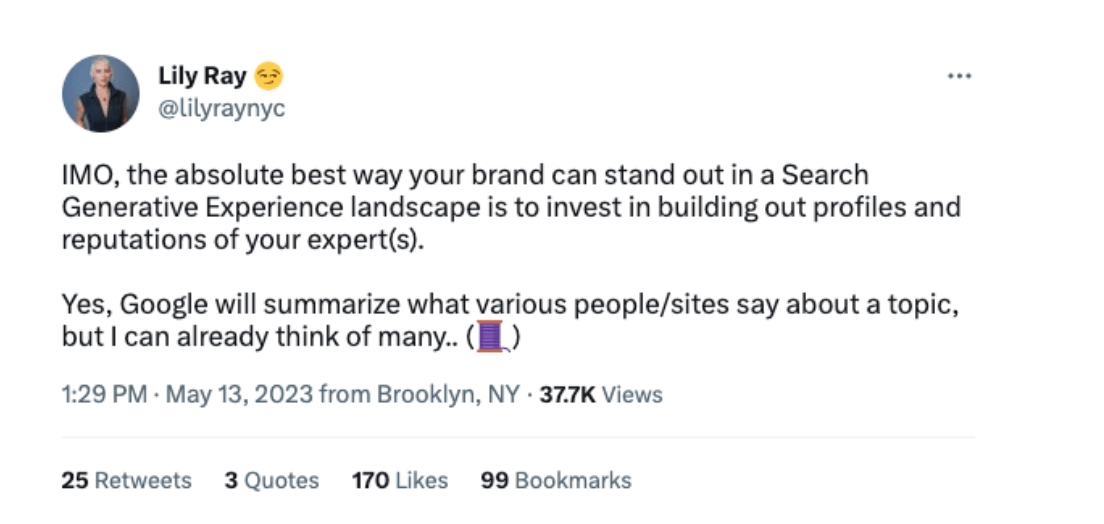 Source: Twitter
3. Speaking of High-Quality Content — You Will Need More of It
In an effort to compete with Amazon, Google's SGE is making shopping a much more thrilling experience. If you are a direct-to-consumer brand, keeping your Merchant Center feed updated with content that dynamically showcases your products is crucial.
No matter your business, creating expert content that is informative, compelling (with multiple kinds of media) and speaks from experience will increase your organic visibility.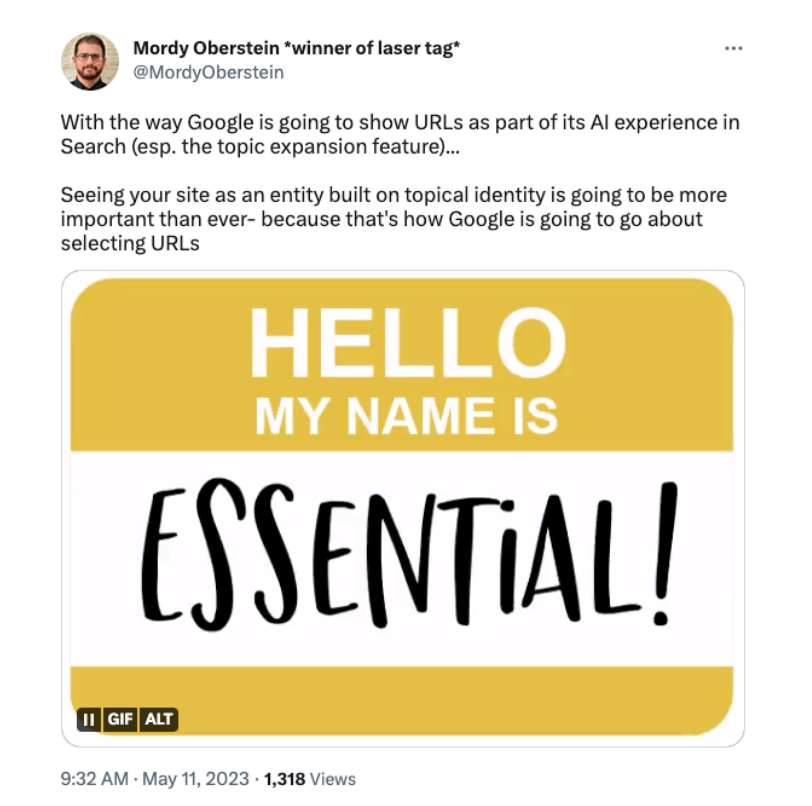 Source: Twitter
How Do I Get Access to Google's SGE?
Google has created a waitlist for the new Search Generative Experience. To get on the waitlist, head over to Google Search Labs.
Get in Touch
Are you interested in improving your marketing strategy with SEO tactics and creating top-notch content? Learn more about our SEO services, or get in touch with one of our experts for a free consultation.