In today's hyper-connected digital world, customers expect more personalized experiences from the brands they interact with. And let's face it, who doesn't love a little personal attention? Here's a quick rundown of the state of personalization:
74% of users say they feel frustrated when website content is not personalized.
91% say they're more likely to shop with brands that provide offers and recommendations that are relevant to them.
89% of digital businesses are investing in personalization.
As you can see, personalization is no longer a nice-to-have feature in 2023 but a must-have for businesses looking to succeed in a highly competitive market.
Personalization allows businesses to create tailored experiences that meet their customers' specific needs and preferences, which can help increase customer loyalty, drive engagement, and boost revenue. By leveraging personalization tools, businesses can stay ahead of the competition and build stronger, more meaningful customer relationships.
If you're looking to capture the attention of your target audience and create a more personalized experience, you're in luck. Today, we're exploring the top personalization tools for marketers in 2023. These cutting-edge tools use machine learning to analyze user behavior, so you can better understand what makes your audience tick, helping you boost customer engagement and loyalty and ultimately increase revenue. So, let's cut to the chase and dive into the world of personalization tools. Ready, set, go!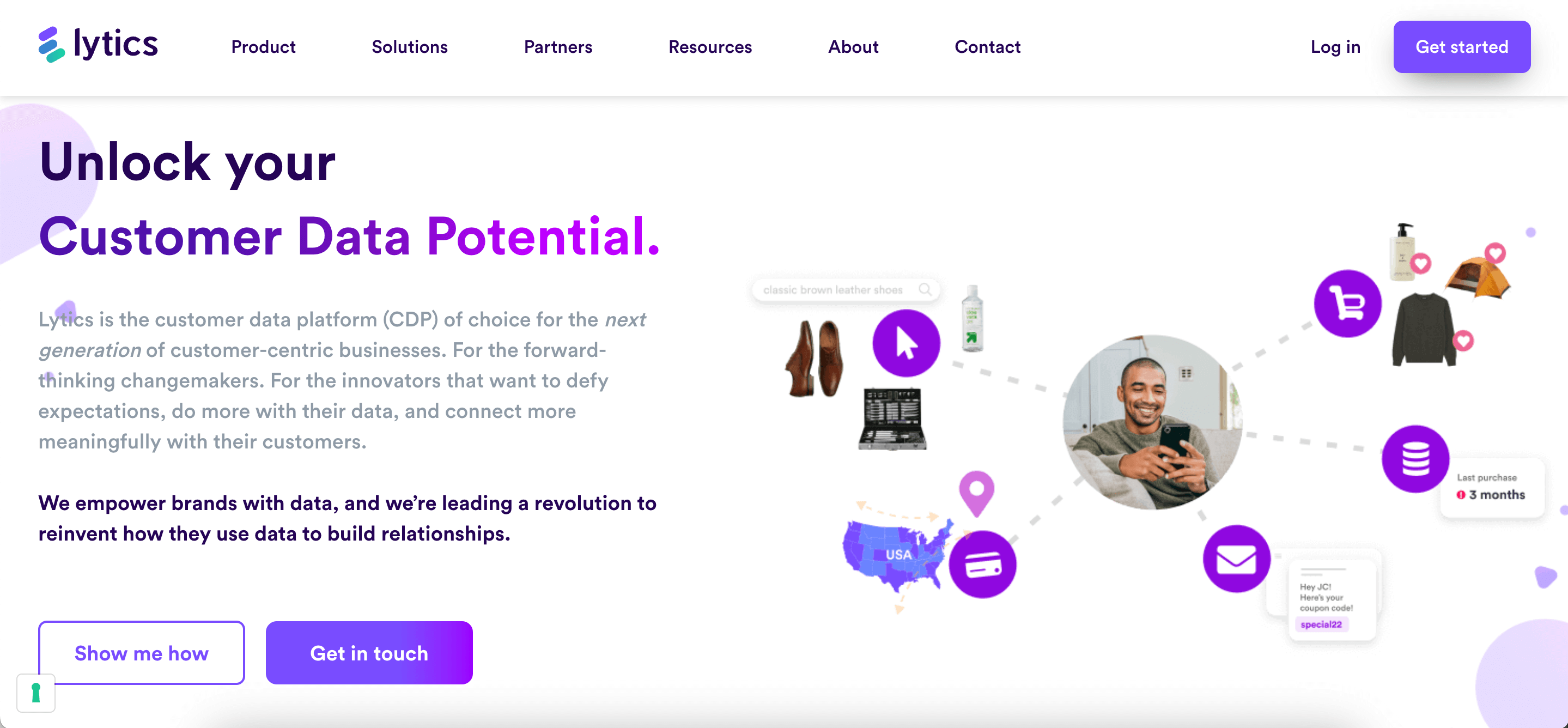 Lytics
Used by: Universal Music Group, TIME, Live Nation, Ancestry
When it comes to personalization, Lytics is a tool that should be on every marketer's radar. This powerful tool uses machine learning to analyze user behavior and interests, allowing businesses to create personalized customer experiences.
Key Features and Benefits
Gain Deeper Audience Insights – By creating intelligent user profiles based on first-party data and identifying predictive behaviors, Lytics unlocks user affinities, giving businesses a more detailed understanding of their customers. With out-of-the-box user scores, audience segmentation, and identity resolution, Lytics enables companies to personalize their marketing strategies and create more effective campaigns.
Automate Decision Making with AI – With its AI-powered tools, Lytics can segment, suggest, and deliver relevant content at scale, reducing the time and effort needed to create and deliver effective campaigns. Integrating data from disparate sources, Lytics enables businesses to personalize customer journeys across their tool stack and set up predictive audiences to find and activate users that look like their best customers. Journey orchestration lays out business goals on a canvas to progress users from unknown to known to purchaser to brand advocate.
Deliver Omni-Channel Messaging – Lytics integrates with existing marketing technology ecosystems to deliver a consistent, personalized experience across web, email, ads, and mobile. By delivering omni-channel communications, businesses can ensure that users receive the right message at the right time, regardless of the channel. With Lytics, businesses can easily activate marketing channels and deliver users a seamless, personalized experience.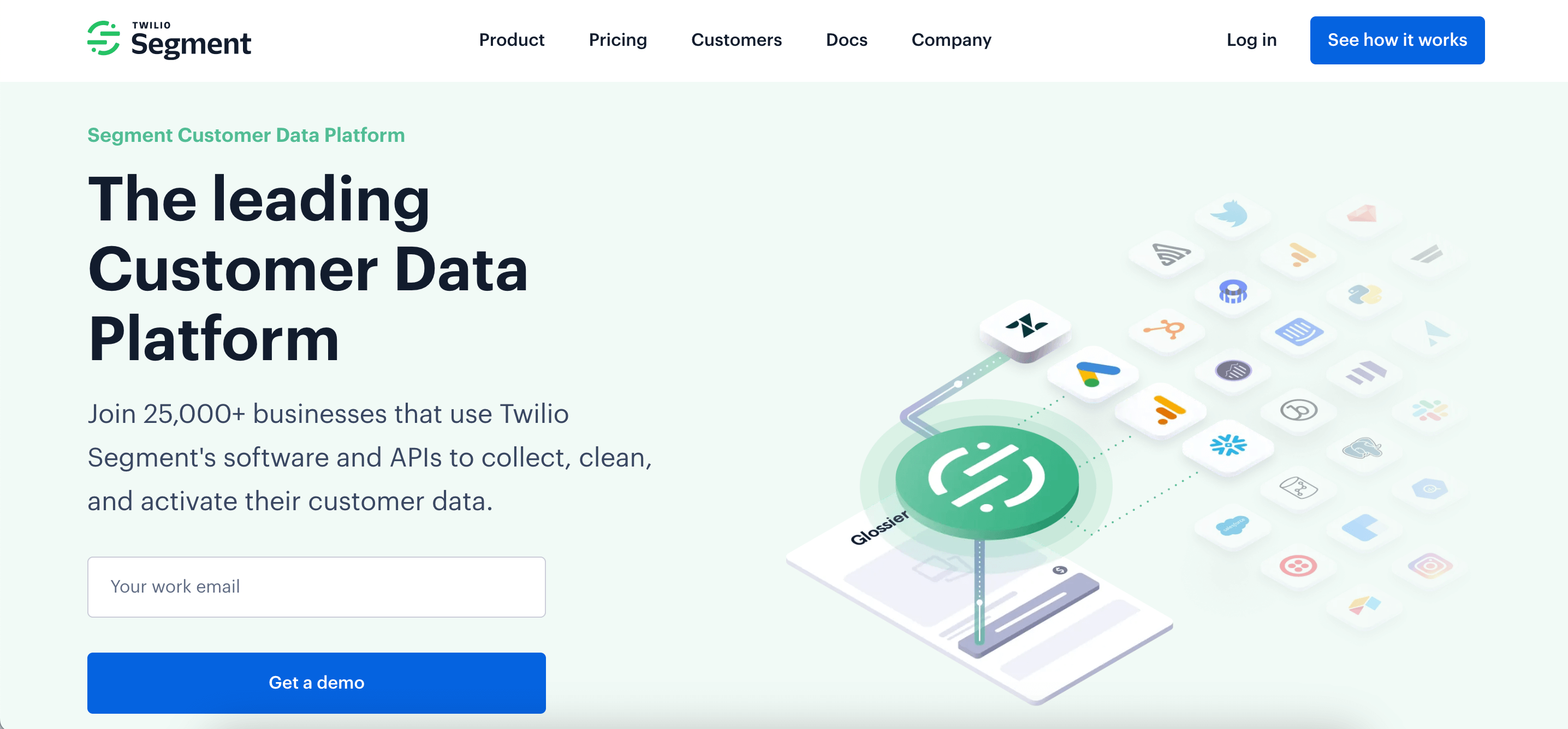 Segment
Used by: Domino's, Intuit, IBM, Instacart
Another top personalization tool for marketers in 2023 is Segment. This tool allows businesses to collect and analyze customer data from various sources to create more personalized experiences.
Key Features and Benefits
Personalize Customer Interactions Across Channels – Segment empowers businesses to create tailored campaigns that respond to customer actions in real time, using a variety of channels and touchpoints. By activating tools instantly, businesses can personalize customer interactions across channels and behaviors, building loyalty and driving revenue growth.
Build a Unified View of Customer Data – You can use Segment to build a comprehensive view of customer behaviors and preferences across multiple touchpoints. By using real-time customer profiles to create rich audiences, businesses can orchestrate personalized journeys that span owned and paid channels, delivering a seamless customer experience that drives engagement and conversions.
Optimize Your Strategy with Data-Driven Decision Making – Segment's propensity modeling capabilities allow businesses to make data-driven decisions about their marketing strategy, predicting which offers are most likely to convert. Using consistent data across all marketing tools can help you optimize campaigns for maximum ROI, allowing you to try new channels and approaches without extensive engineering or analytics projects.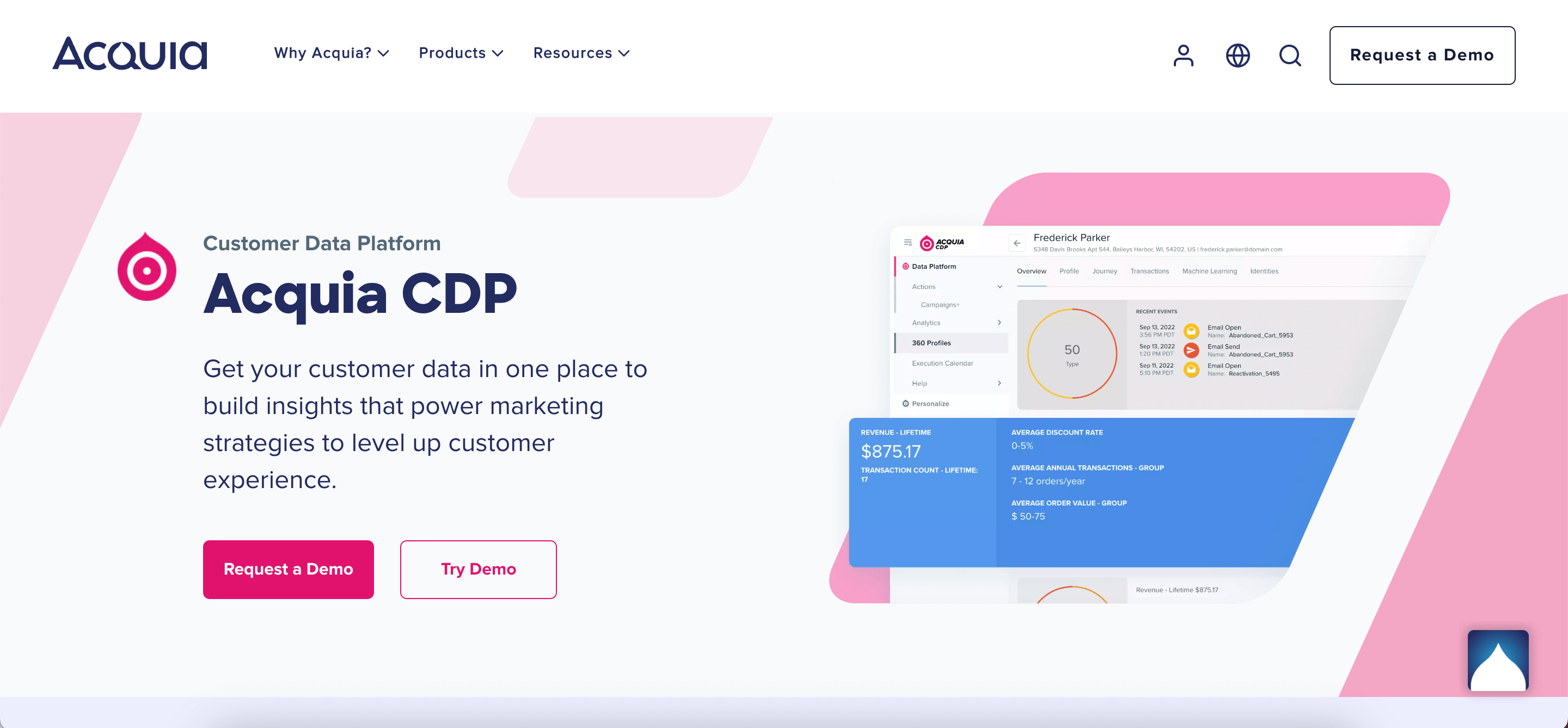 Acquia CDP
Used by: Clarks, Godiva, New Balance, MCM Worldwide
Last but not least, we have Acquia CDP, another top personalization tool for marketers in 2023. This tool enables businesses to create personalized customer experiences across multiple channels.
Key Features and Benefits
Unify Your Customer Data – Aquire CDP helps solve the problem of having customer data scattered across multiple systems by bringing all the data into a single view. This process removes duplicates and inconsistencies, providing a reliable source of truth. With a complete picture of each customer, marketers can make more informed decisions and develop effective marketing campaigns.
Gain Insights and Make Predictions – Aquire CDP offers marketers a range of powerful tools for data analysis, including configurable insights and predictive models. The pre-built models and clusters can help predict customer behavior and make recommendations, improving marketing outcomes. With the ability to access data across all channels, marketers can see how their marketing performs in real-time and make informed decisions about future campaigns.
Manage Campaigns with Security and Compliance – Aquire CDP provides a secure and private way to manage marketing campaigns, ensuring compliance with data privacy regulations such as GDPR. The platform allows for advanced segmentation, marketing automation, and dynamic personalization, enabling technical and non-technical teams to create and execute campaigns confidently. The ability to integrate with other marketing systems and verticals makes it easy to extract value from customer data, optimize marketing campaigns and drive better outcomes.
You may have noticed a lot of similarities between these tools when it comes to helping you better understand your audience's individual data. So, which personalization tool is right for your business? Well, it depends on your specific needs, goals and budget. We encourage you to visit their sites to learn more about their nitty-gritty differences and determine which is the best fit for you.
But one thing is for sure – personalization is the key to improving your online presence and increasing your revenue. By using these tools, you can create a more personalized customer experience, which will help you stand out from your competition and drive more sales.
If you want to stay up-to-date with the latest digital marketing trends and tips, be sure to sign up for Designzillas' newsletter!