Abandoned emails happen in any digital marketing campaign. It's the reality we're facing when email recipients are overloaded with hundreds of messages per day. However, any company that relies heavily on email marketing to generate revenue needs to prioritize optimizing email marketing for conversion. To get enough clicks to hit your goal, it's important that your emails are clear, targeting the right audience, and making people interested in what you have to offer.
Email marketing conversion rate has always been one of the most valued metrics when analyzing performance. You may have a great email open rate and a great click-through rate, but how many of those people are actually converting on the primary action you want them to take?
That's what conversion rate helps us understand. In this article, we'll expand upon several actionable tactics that can help to drastically increase your typical email marketing conversion rates.
What Is Conversion Rate for Email Marketing?
In every email you send, there's a specific action a subscriber is supposed to take. This can be as casual as visiting your website or as vital as making a purchase.
In simple terms, email marketing conversion rate is the percentage of subscribers on your target email list who take the desired action. Every subscriber successfully called to action is a positive conversion.
How to Calculate Conversion Rate in Email Marketing
We can calculate the conversion rate using an email marketing conversion rate formula, which is:
Email Marketing Conversion Rate = (Total # of Conversions / Total # of Emails Delivered) X 100
For instance, let's say you sent an email campaign to 1000 subscribers, communicating a limited time discount. 10 of those emails went to the spam folder and were not delivered.
Out of 990 emails delivered, only 300 emails were opened and only 50 users clicked on the target link to your landing page.
This gives you about a 30% open rate and a 5% clickthrough rate. But it doesn't stop there.
From those 50 users who arrived on your landing page, only 40 completed the desired action and claimed the limited time discount. Now we do the math.
Applying the formula…
Email Marketing Conversion Rate = (Total # of Conversions / Total # of Emails Delivered) X 100
Emails Delivered Successfully = 990
Subscribers Who Claimed the Offer = 40
(40/990) x 100 = 4%
The email conversion rate is 4%.
After learning how to calculate the conversion rate for email marketing, the next step is knowing what the average conversion rate email marketing is. What is a good conversion rate for email marketing?
The answer is, it varies. The total number of conversions you can expect from your email marketing efforts depends on your industry, historical open and click through rates, and the health of your email list.
An average email conversion rate falls between 2 to 5 percent across all industries. But what about B2B marketers?
What About B2B Email Marketing Conversion Rates?
When it comes to the B2B side of email marketing, there are several factors that can determine how you prioritize conversion rate optimization.
Value: What are the costs of taking a particular action in your email? How does your audience work? How do they perceive the benefits of that action?
Expectations: To what extent does the content of your landing page match the expectations your customers inferred from the email?
Clarity: Is your message clear for a suitable audience who would visit your page?
Distractions: Are there elements on the email that distract your potential customers from taking the desired action?
Urgency: Do you call your audience to action? What incentives are there for taking the action in a timely manner?
Actionable Marketing Strategies to Improve Your Email Conversion Rate
1. Create a Succinct, Catchy Subject Line
The subject is the first thing the subscriber will see related to the email sent. It is one of the most important factors when trying to increase conversions. If you have a weak or boring subject line, people are much less likely to open it up.
A great way to create an enticing subject line is by using words that are relevant and specific to your product/service, not forgetting to include numbers! For example, instead of saying,"Our sale ends soon!" you could say, "Get 40% Off All Products Until Friday".
Additionally, don't make your subject line too long or it will be cut-off. Remember to keep the tone consistent with the rest of your email marketing campaign to avoid confusing readers.
2. Send Content That Gains Trust and Loyalty
Whenever you send an email, the ultimate goal is to communicate something interesting for the subscriber. Remember, the customer is the main character of this story, not you.
If you're spamming your users with content that isn't relevant to them, they'll likely check out and unsubscribe over time. If you provide regular content that helps them solve their problems, they're much more likely to open your future emails.
3. Keep Your Emails Short and Use Bullet Points for Easy Reading
The average person spends only 10 seconds on each email they receive, so make it count! Keep your message brief and straightforward to read. Use bullet points in order for readers to quickly scan the information that you're providing.
4. Use Strong Visuals to Engage Readers
Eye-catching imagery and animated gifs are a great way to keep your readers engaged and on-track with the material.
A picture's worth a thousand words, so use them wisely to make an impact! Keep your image sizes in check, if you send a large file via email, your deliverability rate is going to plummet.
5. Bet on the Marketing Moment
"Moment Marketing" refers to customer targeting where brands approach prospects during moments that matter. This strategy helps businesses stay relevant during this digital age where everything is interconnected.
Combining email marketing with timely moments will ensure that you send your emails just when a customer needs it the most.
In other words, you will have many more chances that your audience will open the email, thanks to the context in which you sent it. Therefore, the email marketing sales conversion rate will likely increase.
6. Test, Always Test
Testing your email marketing campaign is everything! It helps to measure results and know how to improve them with repetition. Conducting A/B testing helps you determine the types of email subject lines your subscribers are compelled to open more. Subsequently, this translates into a gradual increase in your average open rate.
7. Update Your Database
Over time, some people who subscribed to your page may have changed their email addresses since they first converted. That's why you might be experiencing several bounced emails when you launch a campaign. We recommend that you occasionally review your list of subscribers and regularly clean your lists with tools like Neverbounce. This way, you will get rid of ghost subscribers and have the right statistics when measuring your email conversion rate.
8. Choose a Suitable Day and Time for Delivery
There are no specific days for sending emails. Determining a suitable day and time for delivery depends a lot on the profile of our audience. You can do an A/B Test and send it in at different times to see which one gives you the best open rates. If you're using a popular email marketing tool like MailChimp, you can use their Send Time Optimization feature to send at the best time available.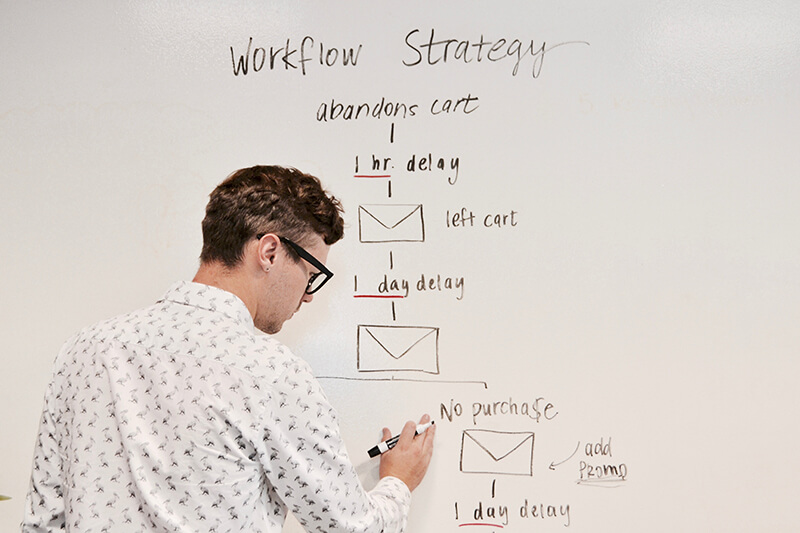 Looking to Grow Your Business With Conversion Marketing?
Conversion rate is one of the most critical metrics in digital marketing. Whether you are in the world of e-commerce, a B2B business owner, or a CEO of an enterprise brand, your goal is quite simple — generate new customers.
At Designzillas, we will help you scale your business by providing a digital strategy, conversion marketing funnels and website UX optimization.