With 4 million advertisers and more than 1.8 billion Facebook users each month, knowing how to construct a campaign on this steadily-growing platform is a must.
Facebook's primary ad creation tool, Ads Manager, enables you to
Create, format and edit your ads
Target ads to audiences based on demographics, behaviors or audience information
Manage a campaign budget and payment history
Monitor your ad performance with reporting tools
If you've never created an ad before, buckle in as we explain campaigns, ad sets and ad creation. By following this step-by-step process, you'll soon have a Facebook ad that's ready to attack.
Establishing Your Campaign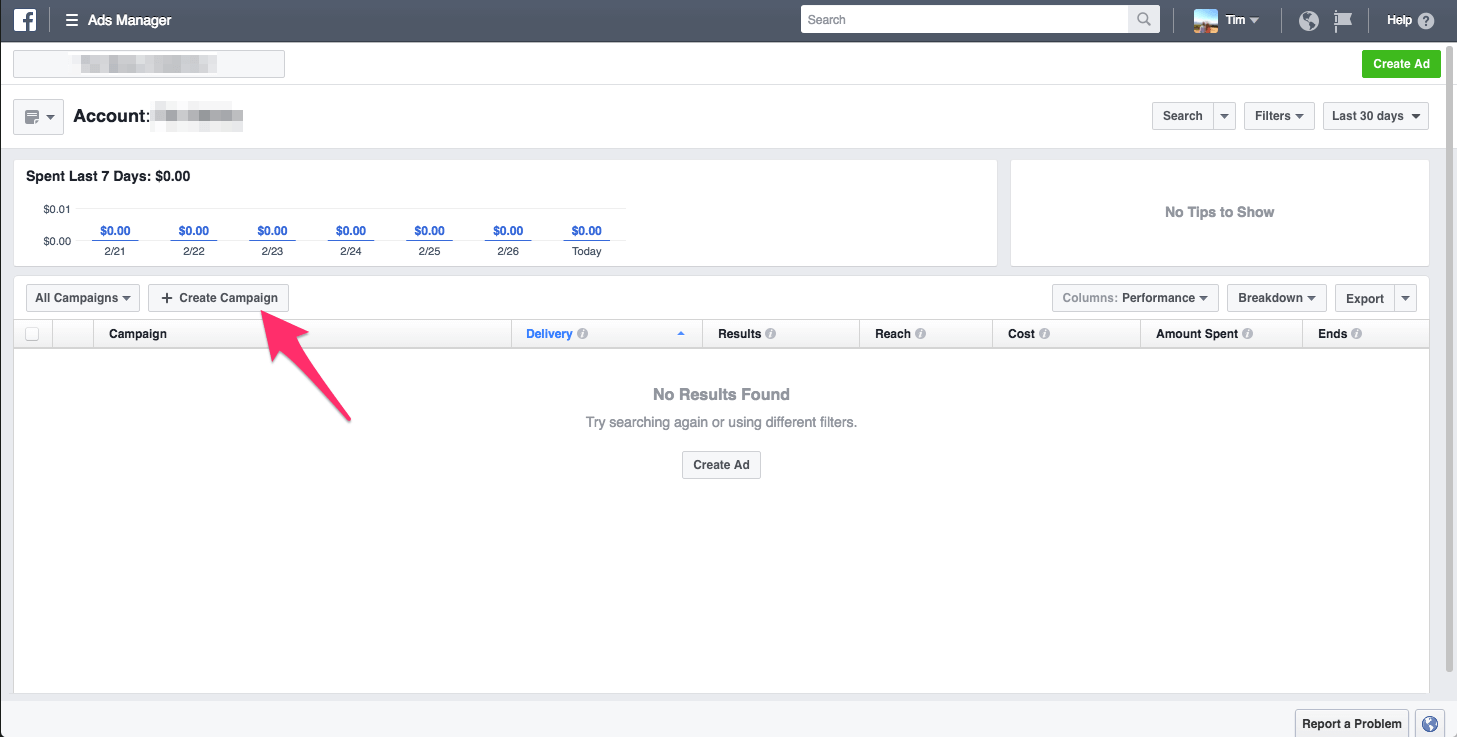 The first step in any project, task or adventure in life is to select your objective. Why are you doing what you're doing? Well, when creating an ad campaign this is a similar process. You must first select an objective from the list provided. Ask yourself, are you targeting an audience in the awareness, consideration or conversion stage?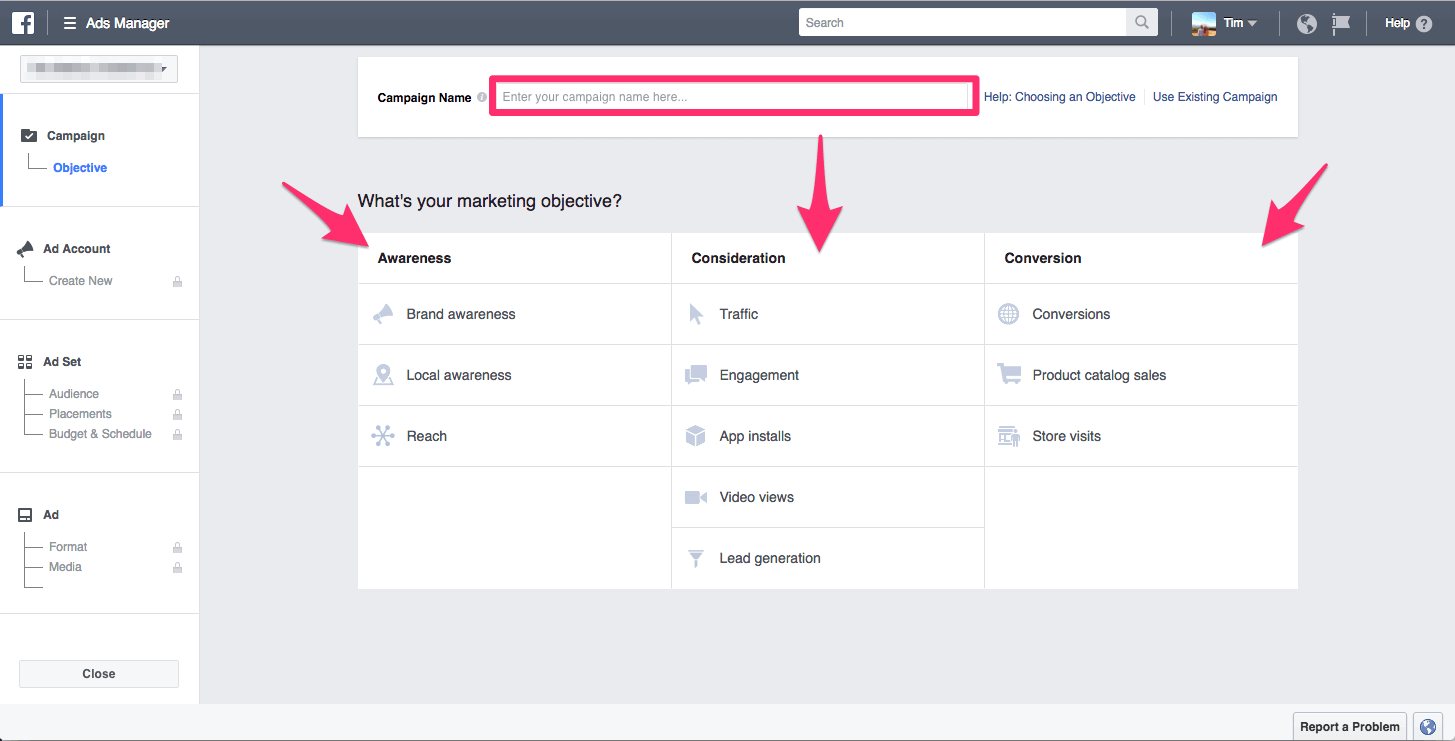 Once you've decided that, there are several objective options in each category of the decision-making process. Think about the intention of your ads you plan to create and select the best-fitting option.
If you're having trouble selecting the right objective, check out Facebook's guide to choosing the right objective.
Then, select a name. This will help categorize and organize your reports, insights, tips and notifications when you have multiple campaigns.
Developing Your Ad Sets
When developing ad sets, you'll select your audience you wish to target by filling in details about them.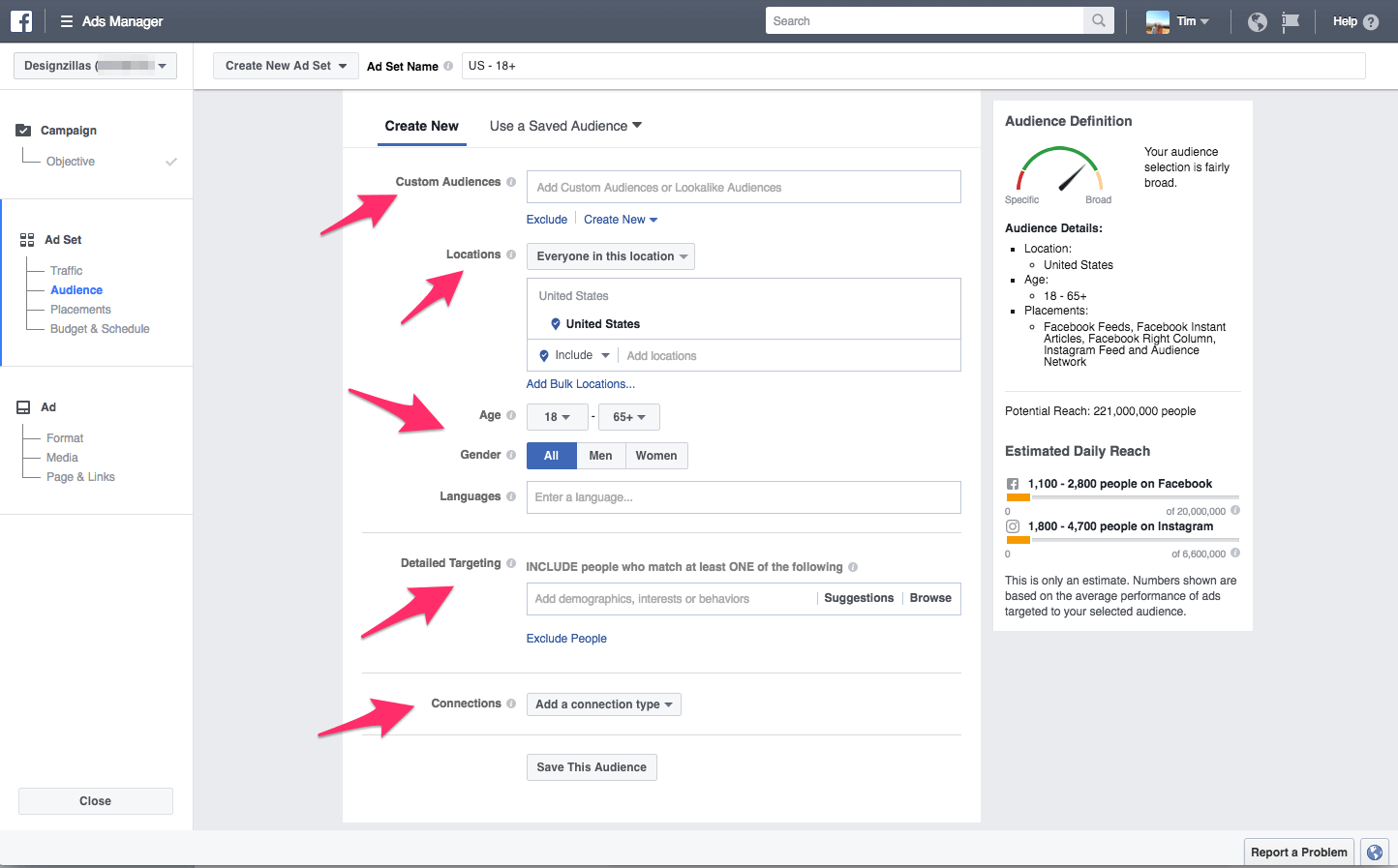 There are a few options for targeting:
Custom Audiences: This allows you to show ads to your contacts, website visitors or app users by targeting people that are familiar with your business.
Locations: You can target people currently in, living in, recently in or traveling to a certain location by address.
Age, Gender and Language: Select the age range you wish to target. Select either All, Men or Women. Then, you can enter a language to target users that speak a specific language.
Detailed Targeting: Choose to either include or exclude people who match one of several demographics, interests or behaviors that you pick.
Connection Type: You can also aim your ads at people who have recently connected with your page, app or events in a variety of ways.
After targeting options, you can scroll down to select either automatic ad placements, where Facebook will place your ads in the areas where they'll perform best, or you can select edit placements, where you can remove the option of certain placement areas.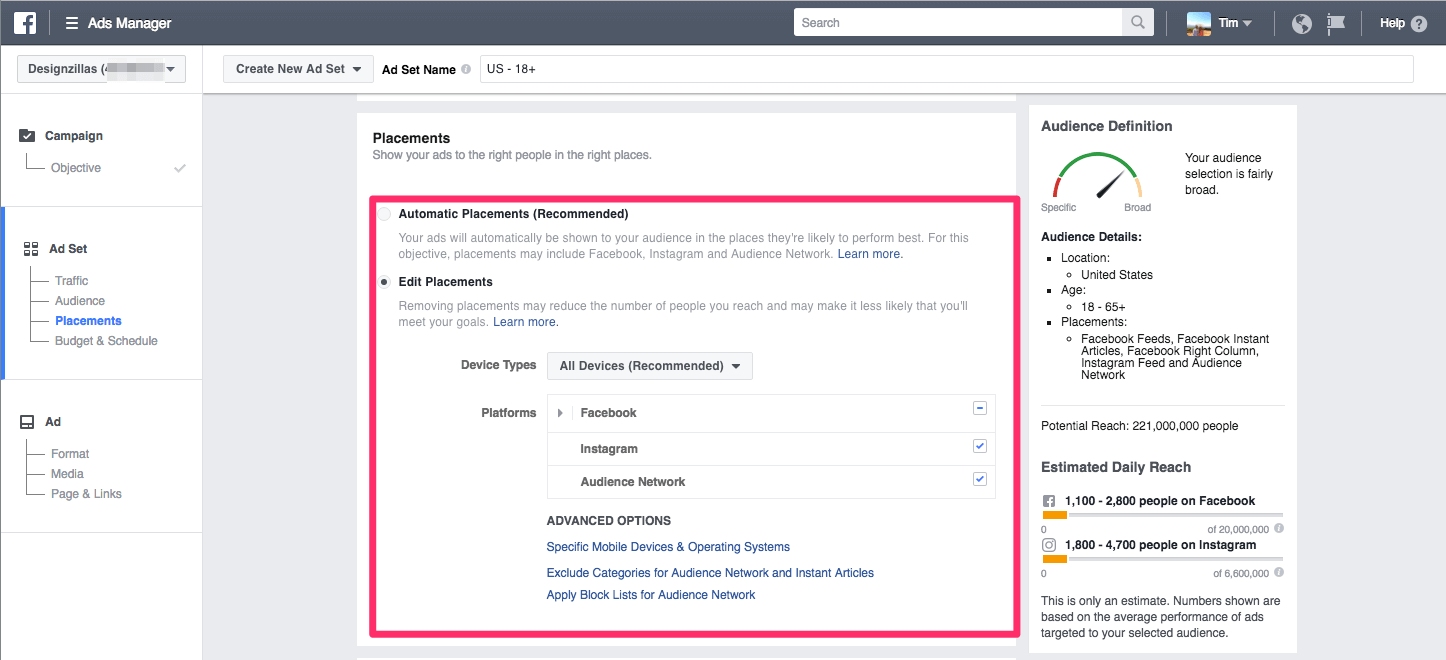 Further down, you'll find budgeting and scheduling. You will enter a dollar amount and choose between a "per day" budget or a "lifetime" budget, meaning the duration of the campaign.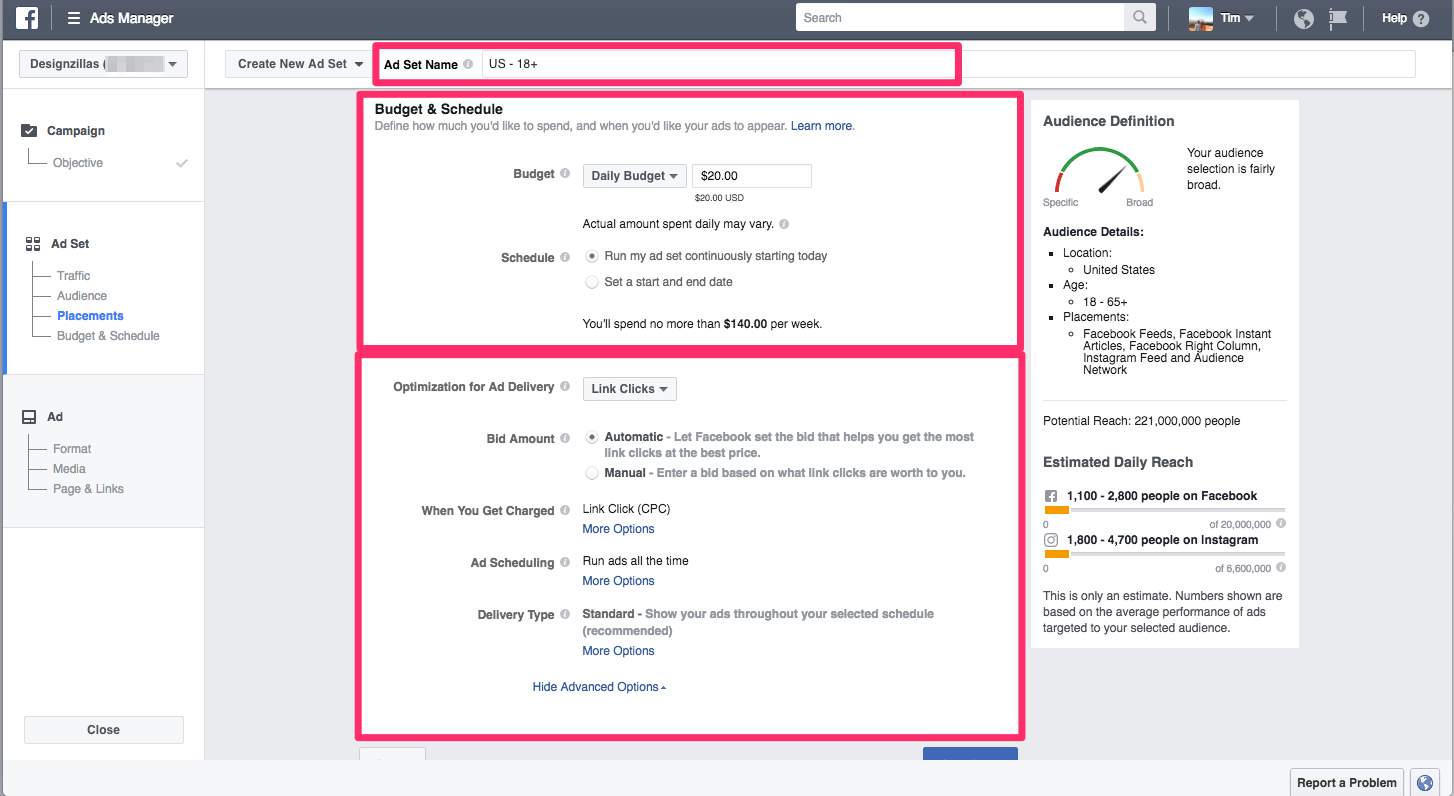 Then, select a start and end date and time for your ad. There's a dropdown for selecting what you'd like to optimize for, then pricing preferences and the option to run ads on a schedule (if working with a lifetime budget).
Lastly, select an Ad Set Name (or use the default) at the top of the page.
Creating the Ads
Now you're ready for the fun part ─ constructing your ad! First, name your ad at the top of the page.
Then, choose between the five ad formats offered:
Carousel
Single image
Single video
Slideshow
Canvas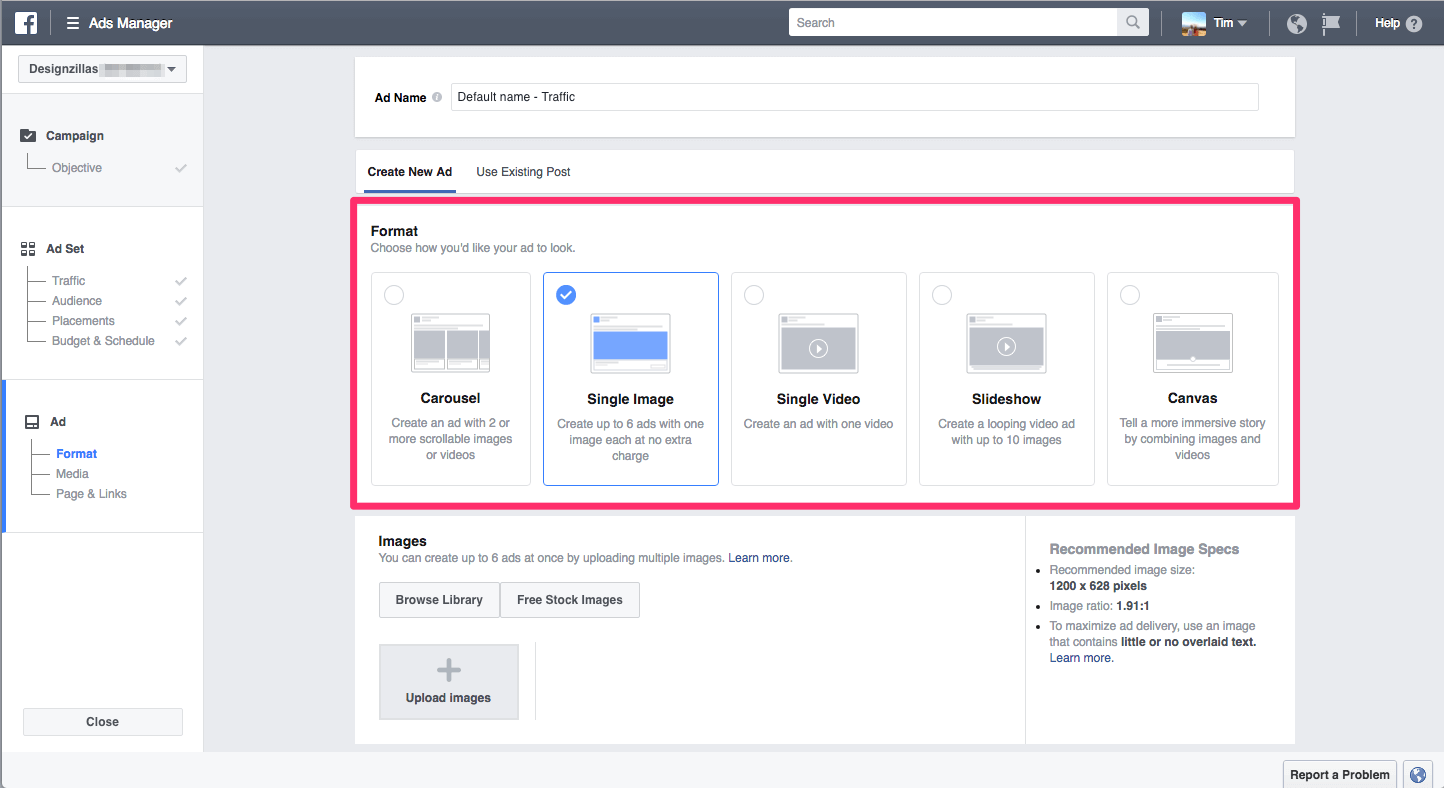 Next, select the page you're advertising for, the text for the ad and the image(s) you wish to include. While choosing between these features, an ad preview will appear to the right and you can see exactly how your ad will appear in Facebook to your audience.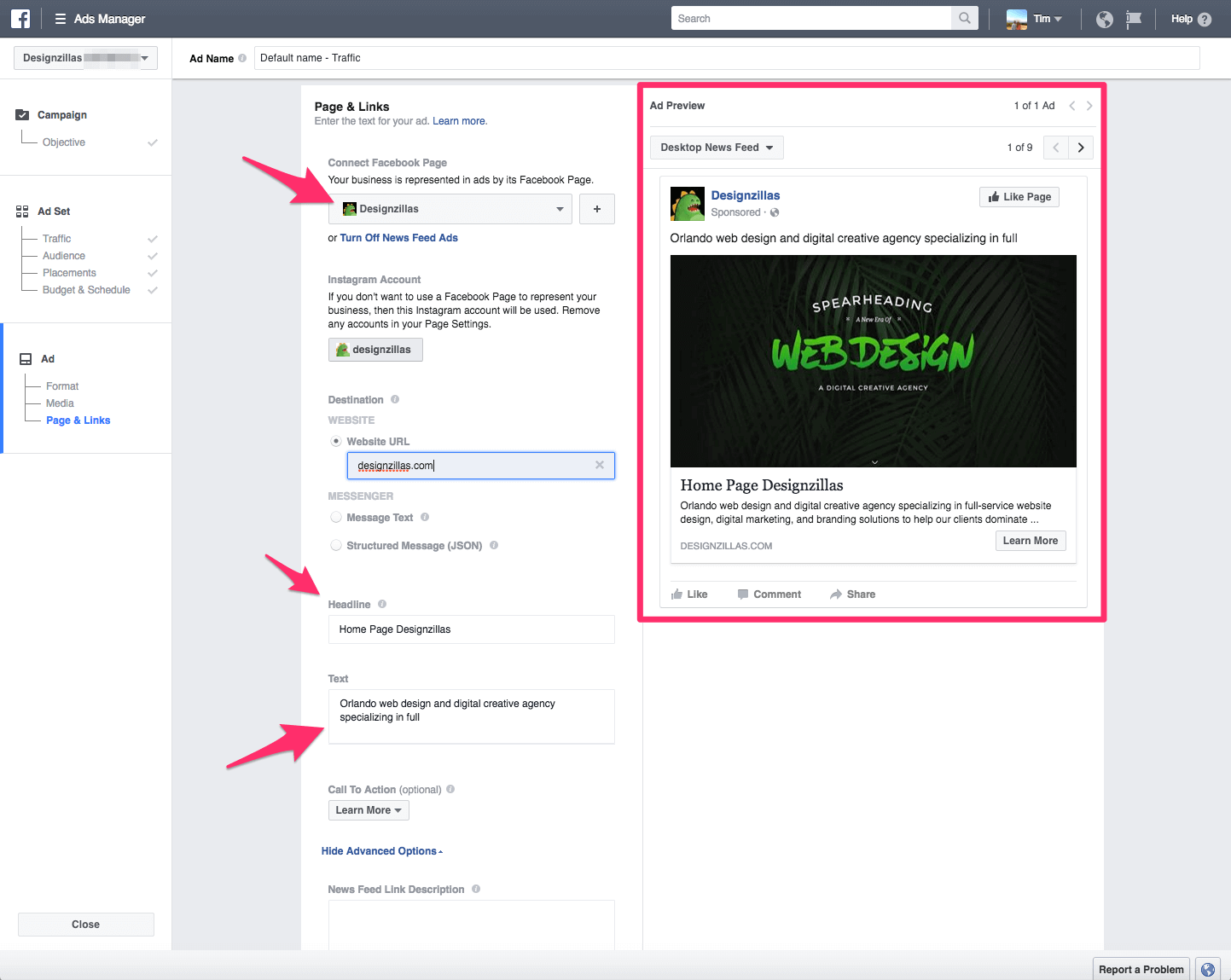 If you're struggling with ad design, check out Facebook's design tips.
Now, you're ready to hit the big, green button:
"Place Order"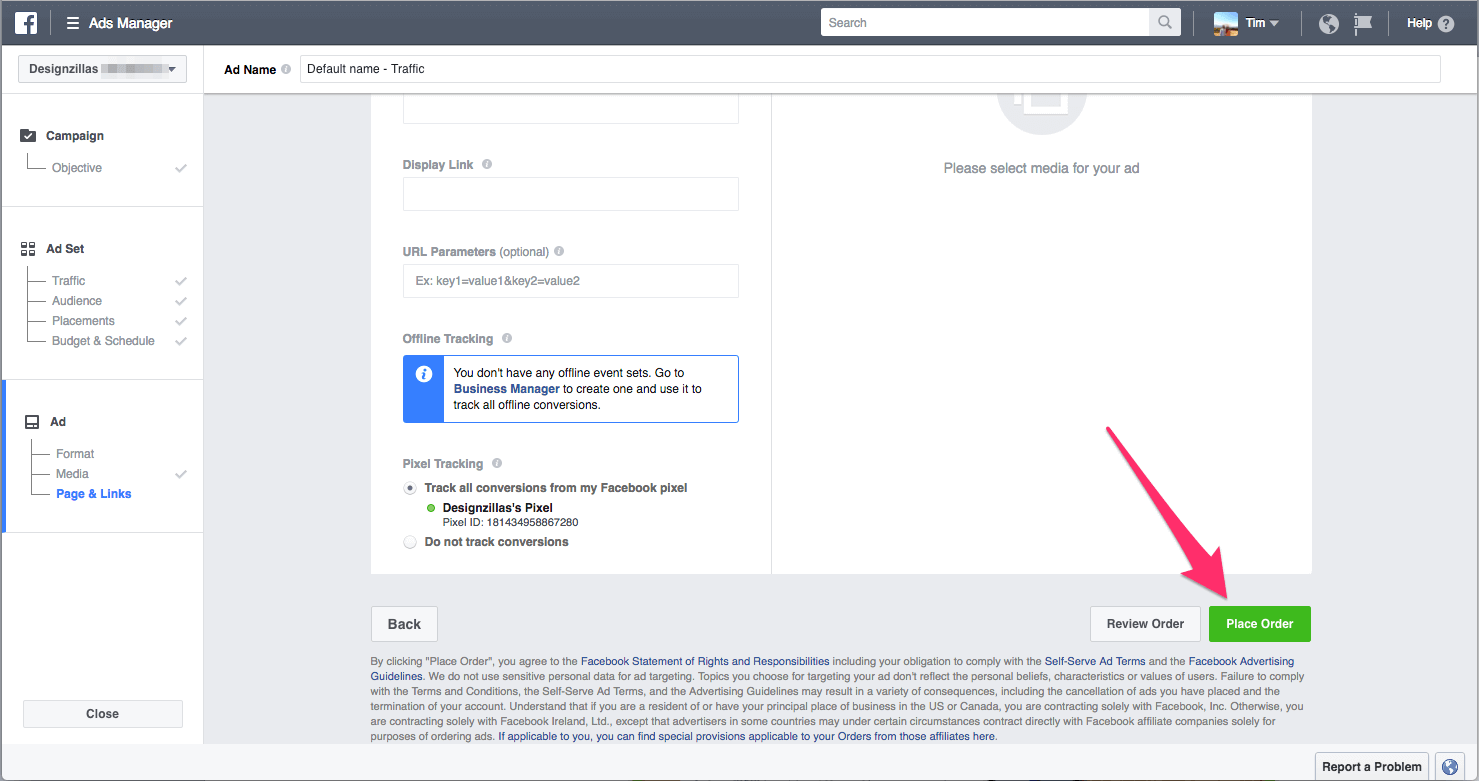 When you do, you'll be prompted to enter your payment information (only the first time you create an ad). Your ad is ready to go!
Next steps include tracking the success of your ads, adjusting your targeting and improving your Facebook ad technique.
Check out this HubSpot article for some great advice on improving your ads. Facebook provides several other how-to's such as direct response and brand advertising, ad performance and reporting, guides for advertisers and additional resources that can further improve your ads as well.
Get Started Creating and Running Your Ads Here