Creating a content strategy for your business requires a lot of research. From defining who your buyer persona is, to running a content audit, and everything in between, there's a lot to consider when paving the path toward success for your content roadmap.
But there is one essential ingredient that's often left out of the content strategy recipe: the social media factor. Sure, buyer personas, content audits and keyword research are all important to do prior to completing your final strategy, but it's just as important to take advantage of the trackable information that's constantly being provided by your customers on social media.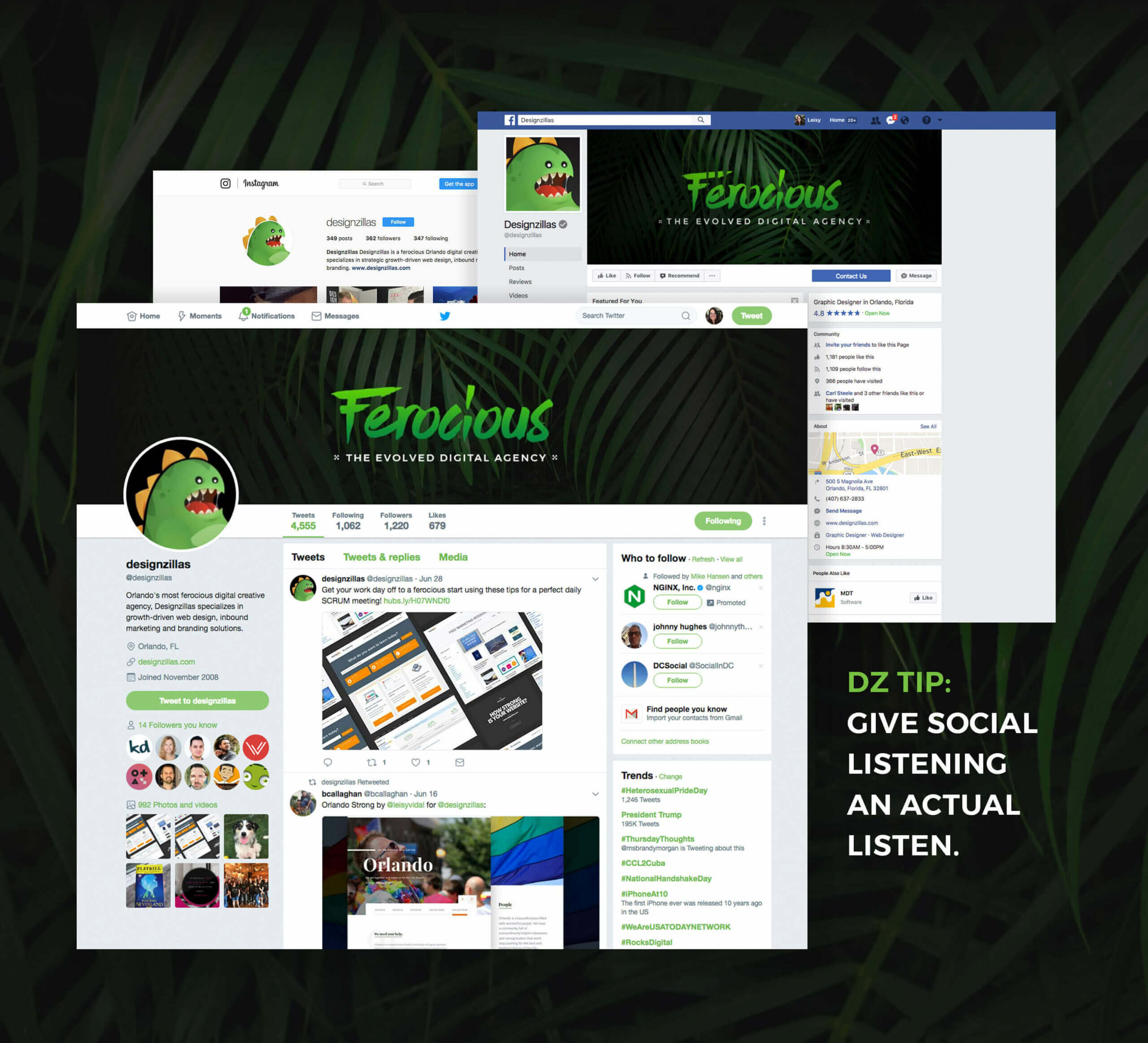 In other words, give social listening a listen.
But first, what is social listening?
Social listening is the act of researching the web and social media platforms to track conversations around specific words or phrases that are related to your brand, your competitors, your field of business and other relevant information, and then using them to create new content for those audiences.
Unlike social monitoring (which is just collecting social mentions and conversations), social listening involves careful analysis and examination, allowing you to look for trends and track data around specific interactions. With social listening, you aren't just creating a list of social engagements, you're analyzing them to find out why some of them have proven to be more significant.
As CEO of Networked Insights, Dan Neely, says it best: "Monitoring sees trees; listening sees the forest."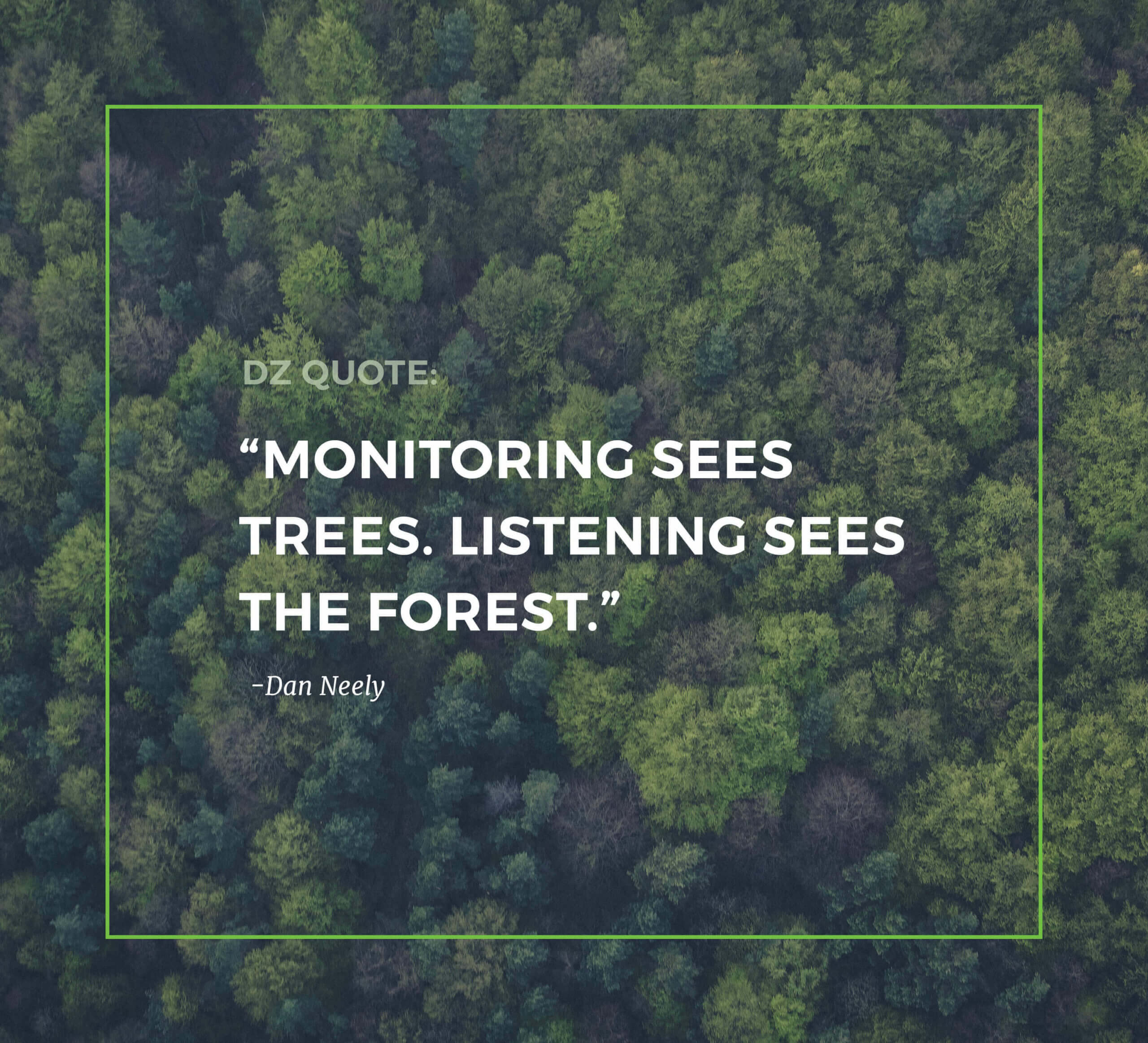 And when it comes to using social media to your advantage, you definitely want to be listening.
And why is social listening so important?
When it comes to customer service, social media has almost become the norm for consumers to turn to, rather than use more traditional methods of communication.
According to research conducted by Lithium Technologies, 53% of customers who take to Twitter to interact with a brand expect a response within just one hour, and it jumps to 72% when customers have a complaint. And when companies fail to address these concerns, 38% of these consumers admit to feeling more negative toward the brand, with 60% more willing to take unpleasant actions in response to the feeling of being ignored.
According to a RightNow Customer Experience Impact Report, a whopping 89% of consumers have stopped doing business with a company after experiencing poor customer service, and much of which consumers expect to be handled over social media.
Sound a little harsh? Maybe so. But nonetheless, it's the reality. And when it's a reality for customers, it has to become a reality for businesses.
Tying Social Listening into Content Strategy
Now the real question is: how do we use this information to help guide our content? We've compiled a list of five ways to use social listening to assist with creating your best content strategy yet:
1. Identify new keywords to use in content headlines.
Even when customers choose social media to talk about your product, service or brand in general, they're not always mindful of mentions, tags or hashtags to ensure you're seeing their messages. So even though conversations may be happening about your brand (whether intentional or not), it doesn't always mean they're happening with you.
This is where active listening comes into play. By tracking mentions, discussions, and even different variations of your brand name (with or without the @ symbol), you can discover what they're talking about and how they're feeling about your brand to turn into ways to delight them in your content.
New trends that are being discussed on social media can be incorporated into your blog strategy, social posts, premium content, website copy and so much more.
For example, if you're business is a clothing store, social listening can help you determine what your consumers are wearing that season, allowing you to leverage your content around these trending clothing types (your keywords). This summer, Elle introduced some top fashion trends, including "single-shoulder cutouts", "white shirt dresses", "foldover waists", etc., which can each be used as keywords in your content strategy to attract customers to you.
2. Find out which social channels your audience live on, and go there.
Not all social platforms are created equal. Depending on your business's industry, as well as your buyer persona, there are certain platforms that are used hourly, while others aren't even touched once.
The key here is to use social listening to your advantage for representing your brand on social media, from creating posts to replying to negative comments and more. Which demographics are you working to attract and convert? Whether it's Twitter, Facebook, YouTube, SnapChat, LinkedIn, Google+, Instagram or any other medium, find out where these conversations are happening, and when you're ready, become an active voice in that conversation.
Check out some of our social media techniques and tips for identifying the most useful platforms here.
3. Discover who your brand ambassadors, influencers and advocates are, and build relationships through your content.
These individuals are those who have the ability to make the biggest impact on your brand—positive or negative. That's why it's important to stay on top of their interactions with your brand or industry to understand how to keep them on your side. How? One highly effective (and highly honest) way is through social listening.
Find out what they're saying. Are they happy? Reward them with more content they want to see. For example, maybe you're a yoga studio that has a strong following on social media. Let's say you see someone speak highly of your business on Facebook or in a review. Reward them with a free downloadable piece of content (maybe a healthy recipe book, a coupon book for additional classes at the studio, etc.) that complements your yoga services and provides value to your customers.
This type of relationship-building will only help strengthen your brand and give customers the opportunity to share all the things you're doing for them through word of mouth and on social media.
4. Address negative feedback or FAQs in visual content.
Take a look at the screenshot above. This is a Twitter thread of Tweets and replies to Tweets from @AppleSupport. As you can see, this brand is using social the way that many customers are using it—as a customer service tool. They are addressing questions and complaints directly to their Twitter posts, which ensures that customers are being addressed on the platforms they're most comfortable with.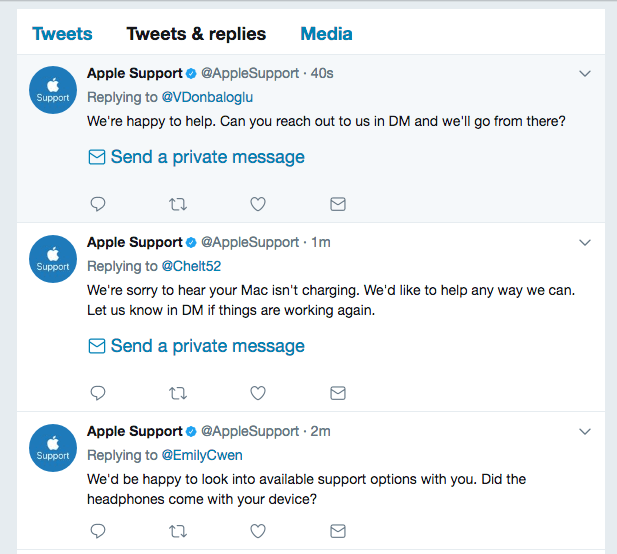 But now they have the opportunity to expand on that through many types of content, including visual content (tutorial videos, infographics or podcasts, etc.). Now, they can see which questions or concerns are most common and create content that addresses each.
Here are some ways to take instances of social listening and convert them into visual content:
Trending Topic: "My new computer isn't charging."

Company: "Here's a video tutorial to help troubleshoot your problem."

Trending Topic: "What are the ways I can use my new coconut oil?"

Company: "Check out this helpful infographic for 100 ways to use coconut oil to improve your health."

Trending Topic: "I want to stay on top of the latest news, but I don't always have time to watch it."

Company: "Listen to this daily news podcast that you can listen to on your drive to work, which features all the highlights you need to know."
Social listening gives you all the information you need to go above and beyond for your customers or potential customers, creating strong credibility and trust they can depend on.
5. Use social listening data to collect even more data through email marketing.
Social listening isn't a one-time job—it's an ongoing effort. And this effort will pay off tenfold if you use it to collect even more data for your business.
When you're "listening in" on important topics, discussions and trends surrounding your brand or industry, you have the opportunity to take that to the next level in your email marketing efforts. In addition to videos, infographics and podcasts mentioned above, you can also use emails to dig in a little deeper.
For example, when an Apple customer tweeted something about their Mac not charging, @AppleSupport responded on social media to address their question, but what they could also do is create an email campaign around those types of questions. Use your email as a tool to empower customers to provide helpful feedback. Offer a simple poll or survey with questions directly related to that Mac product, request a testimonial for it, ask for feedback regarding the customer service experience they had, etc.
Email marketing should be a part of your content strategy, and using what customers are already talking about in your email content can only help you hone in on how your business can be making improvements in the future.
Read more about changing the way you create email to deliver smarter messages to your customers' inboxes.
---
In the end, social listening allows your consumers to help do the work for you.
Sure, there's a ton of work that goes into creating a content strategy. There's no argument there. But what you may not realize is that when you tune into social listening, you're essentially letting them do much of the (research) work for you.
Be the active observer. Pay attention to them, analyze their words, and then use those words to create a strategy that's designed to improve your brand's impact on customers of every stage.
Ready to see for yourself we provide continuous growth for our client-partnerships?