What We've Been Recognized For
In the digital age, eyes dart from screen to screen constantly, absorbing vast amounts of information in just a second or two. How do you make your brand stand out with all that noise?
To put it simply, people ignore design that ignores people. The key is user experience, and we've been focusing on that since 2007.
People ignore design that ignores people.
—Frank Chimero, Designer
Designzillas is thrilled to have received recognition from Clutch in the 2019 report of the top B2B companies in Florida. Many digital marketing agencies in Orlando and other user experience-focused companies throughout Florida were vetted for this award, and we're honored to have come out on top once again!
Past Clutch Awards:
Who is Clutch?
Clutch is a Washington D.C.-based B2B ratings and reviews site that operates as a resource for businesses to connect with the best-fit agency for their next big project or business goal.
Their team of analysts research companies' market presence, work quality, and most importantly, their clients' experiences working with them. Clutch conducts phone-based interviews with former clients and publishes the feedback as a review with a corresponding rating out of five stars onto the company's Clutch profile.
Our Dedication to Partnership
We are proud to have a near-perfect rating of 4.9/5 stars on our profile along with six reviews from our ferocious partners. Below is a summary of one of our most recent reviews.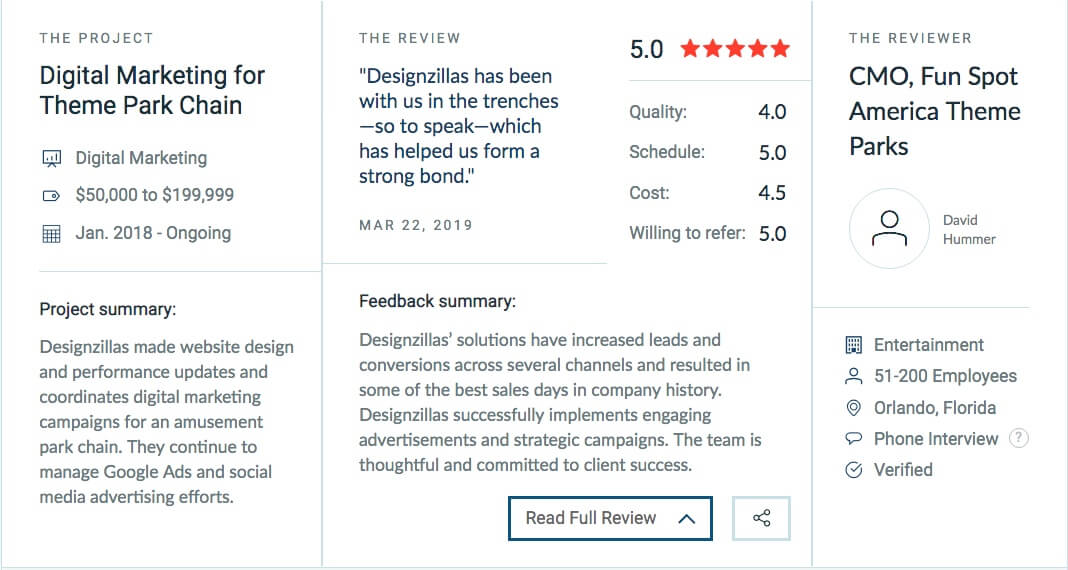 Designzillas has been with us in the trenches—so to speak—which has helped us form a strong bond.
—David Hummer, CMO at Fun Spot America
Want to read more reviews of Designzillas? Visit our Clutch.co profile.
We are thrilled about our growing presence on Clutch. Through these reviews, our partners have given us insight into what we can improve and what we've been doing right since 2007. We want to thank all our partners who are willing to share their experience working with us!
Want to us your review of Designzillas? Drop us a line on Clutch, Google or Facebook!
Contact us today for a quick chat about how we can develop a partnership and a solution for your business growth.