Tracking your leads isn't just good for your sales team—it's also good for your entire business. Your sales pipeline will inform your quarterly numbers, revenue and book of business as a whole. Visibility in your sales data is crucial if you want to know why your company's finances look the way they do.
Your leads are the lifeblood of your company's growth. If you want sustainable year-over-year growth, you need to explore opportunities to earn more sales and close more deals. The only way to do that is to track your sales leads.
How to Track Website Leads
If you're focused on growing your online presence, digital marketing and advertising will be a healthy source of leads. These leads will come through your website and into your sales pipeline once they've converted from a website visitor to lead. You'll need an effective means of tracking these leads, and luckily, there are some versatile tools out there to do it.
Choose Your Lead Tracking System
Your lead tracking system will automate most of the hard work for you and your sales team. When it comes to tracking leads and their information, a customer relationship management system (CRM) will give you visibility into each lead. Every time a website visitor fills out a form, a CRM will capture that information for you.
Their name, company, contact information and any other relevant data can be put into the system. Notes, emails and calls associated with those contacts can help your sales team close deals with leads. So how do you choose the right CRM to track leads?

HubSpot CRM
HubSpot's CRM is robust enough to support your marketing department's efforts to attract leads and your sales team's work to close those deals.
You can track and analyze a treasure trove of information about your leads and customers while managing your marketing efforts from the same platform. HubSpot's CRM includes features to support operations teams, too, with live chat and ticketing systems. If there's an app you use that you want to connect to HubSpot, they support that too! Zapier can integrate with hundreds of apps and software to build out your toolkit.
The best part of HubSpot's CRM is that it's free. It's flexible enough that it can grow with your business without costing you an arm and a leg or eating into your bottom line.
Salesforce
Probably the biggest name in CRMs, Salesforce offers different solutions for both business types and roles. Much like HubSpot, Salesforce's system will store contact information for leads. At the same time, the CRM can support marketing and operations teams with its other robust capabilities.
With any CRM, you should be able to automate most functions for your team to eliminate otherwise tedious duties or redundancies. With Salesforce, you can also monitor performance and manage orders for e-commerce.
The biggest hurdle or drawback to Salesforce is its cost. The full CRM requires an annual contract and starts at $75/month. In order to deploy automation and take advantage of Salesforce's more robust capabilities, the system costs $150/per user per month. These costs add up quickly, so it's a better fit for an enterprise company's sales team.
Mailchimp
Mailchimp, besides being a robust marketing automation platform, also doubles as a CRM. The Mailchimp CRM allows you to segment and filter your leads and send automated messages to them, lightening the load for your sales team. Tags act as labels within the system, so your team can track certain details about a lead, even when you upload a list in bulk.
Mailchimp has a lower barrier of entry for small business owners, starting out as a free piece of software if you just need email marketing and a CRM system. More built-out tiers feature multivariate testing capabilities and advanced segmentation. Your needs will inform what kind of CRM you use, but large sales teams would benefit from a wide suite of tools.
Build Your Sales Funnel
Once you've chosen your CRM, you need to build your sales funnel. A sales funnel is a visual representation of the journey someone makes from the first time they come into contact with your brand all the way to becoming a customer.
The goal of this funnel is to convert visitors into loyal customers. When someone first comes in contact with your brand, like visiting your website, they're at the top of your funnel. That makes them a "top of funnel" or "TOFU" lead. This is when your potential lead is just becoming aware of your brand.
When a lead is in the process of deliberating and considering the benefits and drawbacks of your company's offerings, they're in the middle of your funnel, making them a "MOFU" lead. This is typically the part of the sales cycle when your team is actively engaging with your lead, providing them with informative content and talking them through the sales process to convert them and close the deal.
At the bottom of your funnel, right up to when your lead is finalizing their decision to sign on with your company and become a customer, they're a "bottom of funnel" or "BOFU" lead. This is like crossing the finish line of your funnel.
As you can see, the funnel gets progressively narrower as your team and marketing tools disqualify leads. Your sales and marketing teams can break out the funnel into smaller sections with special criteria, accomodating for any nuances beyond the big three (TOFU, MOFU, BOFU). Once you've built your funnel, you can create effective marketing strategies that help you attract more leads and close more deals.
Training Your Sales & Marketing Teams
Your sales and marketing teams should be able to align on lead tracking and proper data hygiene within your CRM system. Contact records with incomplete or incorrect information could cost you sales, so it's important to train both teams on the acceptable criteria for a lead.
Name, company name and contact information, at the bare minimum, should be in your CRM system. Information like job title, company revenue and website URL are bonuses. Any relevant notes from calls or emails should be included in the record as well.
By standardizing your leads with proper training and procedure, salespeople will have a much easier time performing due diligence and closing deals. At the same time, marketers will be able to accurately segment leads for targeted campaigns.
How to Track Phone Call Leads in Google Analytics
What if you get leads not through a website form, but over the phone? Google Analytics has a unique ability to track calls with minimal heavy lifting required on your part. You just need a Google Ads account, a call extension and a website you can edit.
You'll need to first set up a conversion action in your Google Ads account. This will tell your Ads account how to track calls and count conversions.
Once you've set up the conversion action in Google Ads, you need to add two code snippets to your website. You need to add a global site tag and the phone snippet. Before adding any of these pieces of code to your website, you may need to ensure that you're getting consent if required for collecting data.
Once your tracking is set up, you can accurately track how many of your leads see an ad and then call your company. It's important visibility that also automates some of your sales processes.
How to Prioritize Sales Leads
When a sales lead comes in through your website or the phone, immediately jumping on that opportunity may not need to be your first priority, depending on the lead itself. A lead that isn't ready to buy, for instance, wouldn't be as high-priority as a qualified one that's ready to sign that same day.
While the leads that convert quickly are an immediate win, the leads that need nurturing should still be a priority for your sales team. Those leads with longer sales cycles represent wins all the same and shouldn't be neglected. This is especially true if they're opening your emails or answering your calls.
On the other hand, leads that don't seem qualified or won't be ready to close for several quarters can be treated as low priority. These leads either haven't interacted with your company much or just aren't qualified. Rounding back on them in a few months can be a tactic to "wake the dead" leads that went dark. If they're ready to discuss signing on, great! You've revived a lead.
Lead Source
Your lead's source indicates how they first engaged with your company. If they saw an ad, a post on social media or found you through a Google search, that would be your lead's "source."
Some lead sources will be more consistent than others in providing leads. Referrals are one of the most solid lead sources because those leads come via recommendation from satisfied customers.
When you track lead sources in your CRM, keep it consistent. Keeping your lead source labels clear will organize your contacts and keep your data clean. Quarterly audits of your closed deals and their corresponding lead sources will also show where the majority of your sales are coming from, so you can get a better picture of your book of business.
Lead Quality & Lead Scoring
Quality leads are a precious commodity in sales. Scoring your leads will help identify those quality leads that are likely to convert and become customers.
A quality lead meets your ideal criteria for a customer, from demographic information to types of engagement with your company. Assign point values to the categories that matter most to your sales team. High-scoring leads that appear ready to convert can then be considered a higher priority.
Lifecycle Stages
The stages of your lead's lifecycle can correspond to your funnel. You can think of them as "subsections" of your funnel. You should always tailor lifecycle stages to what fits your business, adding or subtracting stages as you need. Here are some examples:
Subscriber: Contacts who have opted in to hear from you, usually for a newsletter
Lead: Contacts who have shown interest in buying or signing on with your company
MQL: Marketing qualified leads, or leads that the marketing department has identified as qualified and viable because they engaged with a marketing campaign
SQL: Sales qualified leads, or leads that the sales team has confirmed are qualified and ready to buy because they took an action, like submitting a message on a contact form.
Opportunity: A lead that represents "real" or probable sales opportunity
Customers: Leads who closed and are now active customers for your company
Evangelist: A happy customer that would be an opportunity to find referral leads
At first, this looks like a lot of labels for leads compared to the funnel. But each lifecycle fits into the funnel regardless. A Subscriber sits at the top of your funnel, whereas an Opportunity sits closer to the bottom, especially if they're about to close. Label your contacts as accurately as you can for maximum transparency across your sales team!
Sales Cycle Stages
Sales cycles are the backbone of lead tracking on your sales team's side. Sales cycles are made up of different stages. Adjust your own stages as needed so they fit your business' goals. Here are a few sample stages of a sales cycle:
Prospect: Identifying qualified leads
Connect: Initiating contact with the lead
Research: Discussing needs with the lead and verifying their qualification
Present: Making the pitch to the lead/potential new client
Close: Following up with the lead and signing them on with your company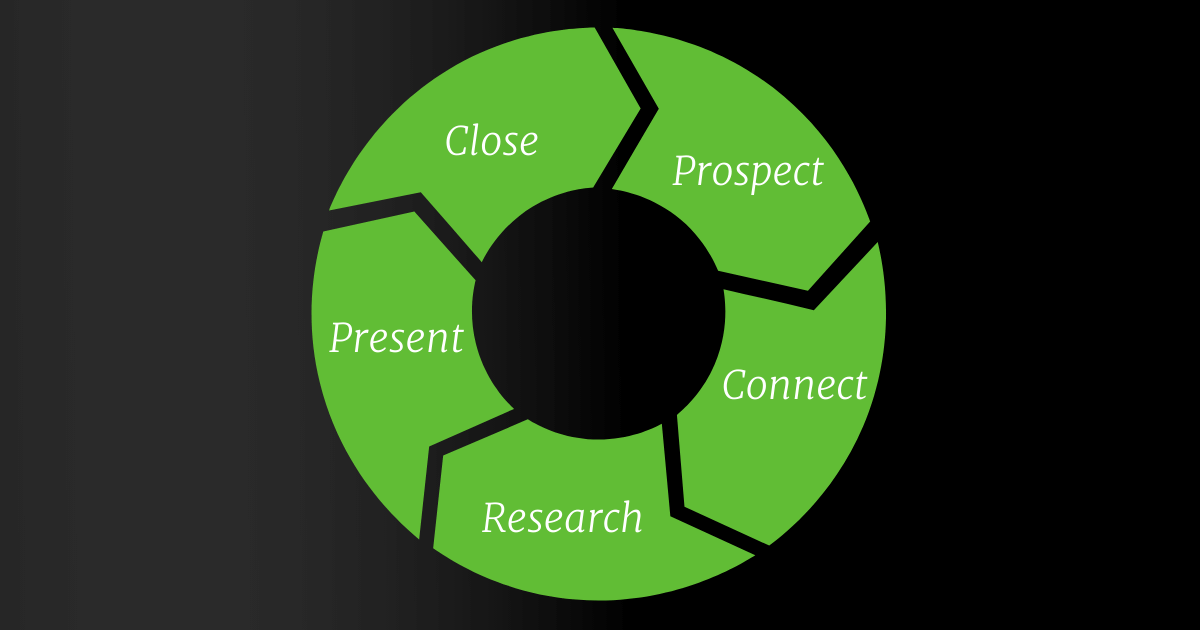 These five stages are the actions your salespeople take in order to find leads, convert them and close a deal. Your salespeople will need information at every stage, including marketing collateral to make their pitch to the lead. They may also need support to close the deal, like authorization of a promotional price.
Number of Touches
A "touch" is an interaction with your lead, and it takes a certain amount for your salesperson to close a deal. In general, it takes 5-7 touches to close a deal.
What does a touchpoint look like? Both phone conversations and email correspondences are touches since they contribute to closing the deal. Automated workflow emails count as a touchpoint as well. Sending a lead content that persuades or educates them can contribute to closing a deal, but a consistent schedule of touches will keep your company on your lead's mind.
What to Do Next With Your Leads
Assigning Leads
Leads should always have a salesperson to contact them once they enter your CRM. If you're assigning leads unevenly, you risk leads going cold or dark.
Some CRMs, like HubSpot, can assign leads throughout your sales team. The system will evenly distribute leads if you specify which salesperson you'd like to assign a lead to, ensuring that all incoming contact records are given an owner.
HubSpot can also assign tasks to contact owners with some automation available, like follow-up reminders when a salesperson hasn't called a lead. With even lead distribution, no lead will fall through the cracks.
Nurture Qualified Leads
Once you've identified your lead and assigned them to a salesperson, you need to maintain your relationship. The best way to do that is to nurture a lead with educational and persuasive content that guides them through your sales funnel.
TOFU, MOFU and BOFU leads will all need different content to answer their questions. A first-time visitor to your website may need further information on the problem they're trying to solve, whereas a BOFU lead may need more detailed pricing sheets about the product or service they're considering.
Marketing and sales teams can both nurture leads with automated email marketing workflows. For a more personalized approach, salespeople can encourage meetings over the phone or even a video call. As long as the relationship is intact and the content helps close the lead, you can positively nurture them to convert.
Close the Deal
The entire goal of your sales pipeline is to close the deal. Once the finish line is in view, your salespeople should be laser-focused on getting across that line with a closed deal.
Getting a tough lead to close can take patience and occasionally a special promotion. If this is the case, you may need to examine your pricing strategy and cost to acquire customers. Beware that the initial onboarding process can actually extend the sales process to make sure that difficult-to-please lead stays on with the company.
Conclusion
Getting to the finish line is the best part of the sales process, especially if you have a long sales cycle. But lead tracking and automation can speed that all up and minimize tedious or redundant tasks. The days of manually tracking leads in Excel spreadsheets are thankfully behind us, with CRMs taking over as the best and most reliable way to track and maintain contacts.
Happy tracking!
You Know How to Track Leads—See What You Can Do With Them!